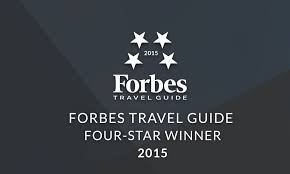 ATLANTA — (February 11, 2015) — Forbes Travel Guide today unveiled its annual Star Rating list, naming The Wort Hotel as two-time recipient of the Forbes Travel Guide Four-Star award. The Wort Hotel will be showcased with all of the Star Rating recipients on ForbesTravelGuide.com.
The Wort Hotel continues to score high in the luxury travel ratings that have been the gold standard in the hospitality industry since 1958. "Our Star Ratings recognize the finest hotels, restaurants and spas in the world. These ratings serve as the most authoritative guideposts for guests seeking exceptional travel experiences. Our primary mission is to contribute to excellence in hospitality, serving the global tourism industry as well as the guest," said Gerard J. Inzerillo, Chief Executive Officer of Forbes Travel Guide. "We're proud to be associated with all the properties on our global list."
With 59 rooms and a staff committed to the highest standards of gracious hospitality, The Wort Hotel is able to personalize each guest visit with its unique brand of western hospitality. General Manager Jim Waldrop said, "To receive the Forbes Travel Guide award two consecutive years exemplifies the consistently high level of service and hospitality that our hotel provides. The dedicated and loyal staff, who truly care about our guests, are the key to this continued success." Hotel owner Bill Baxter added, "Our family recently celebrated 10 years of ownership and every year just outshines the previous. We could not be more proud of these accomplishments and the amazing staff who make it all possible." The Baxters are only the fourth owners of the hotel since it opened its doors in 1941.
For a detailed explanation of how Forbes Travel Guide compiles its Star ratings, visit www.forbestravelguide.com/about/ratings.
Follow Forbes Travel Guide on:
Twitter: www.twitter.com/ForbesInspector
Facebook: www.facebook.com/forbestravelguide
Instagram: www.instagram.com/forbestravelguide.
About Forbes Travel Guide:
Forbes Travel Guide, formerly Mobil Travel Guide, is the originator of the prestigious Five Star Rating system, and has provided the travel industry's most comprehensive ratings and reviews of hotels, restaurants and spas since 1958. Forbes Travel Guide has a team of expert inspectors who anonymously evaluate properties against up to 800 rigorous and objective standards, providing consumers the insight to make better informed travel and leisure decisions. Forbes Travel Guide is the gold standard for luxury hospitality ratings worldwide. For more information about Forbes Travel Guide, visit ForbesTravelGuide.com.
ForbesTravelGuide.com combines the objectivity and heritage of the Forbes Travel Guide Star Rating system with insightful recommendations from a hand-selected group of travel experts, tastemakers and Forbes Travel Guide inspectors. ForbesTravelGuide.com is the sole online destination for Forbes Travel Guide's list of Star Rated hotels, restaurants and spas, and gives its registered members exclusive access to special offers and curated experiences from select Forbes Travel Guide partners. For more information about The Wort Hotel, visit the website at www.worthotel.com.