1. Wildlife Tour

Jason Williams, CEO of Jackson Hole Wildlife Safaris, said, "Fall is a great time to view Jackson Hole's abundant wildlife for several reasons. Not only does cooler weather make animals more active, the fall is also a time of change including migration, mating, and preparing for a long mountain winter. All of this, combined with fall colors and early snowfall in the mountains, makes fall one of my favorite times to experience Jackson Hole." Jason and his team can take you on an unforgettable wildlife safari while you are here. In the fall, visitors can expect to see bears (both black and grizzly), moose, bugling elk in rut, bison and all kinds of birds migrating south. It is a beautiful season to reconnect with nature.
2. Hiking in Grand Teton National Park

Fall is the best time to take advantage of Grand Teton National Park. The summer crowds have died down and you will feel like you have the park all to yourself. On top of your solitude, you will have a front row view to the beautiful fall foliage. The trees go through an elaborate progression that peaks in late September, transitioning from yellow to burnt gold before turning a deep red and emptying their branches around the park. Popular hikes include Phelps Lake, Bradley-Taggart, Cascade Canyon and Granite Canyon. Be prepared for backcountry hiking with knowledge of the area, water and food, and bear spray for the remote chance of a close encounter.
Be sure to read the Grand Teton National Park's seasonal road closure, as some roads close in November.
3. Fly Fishing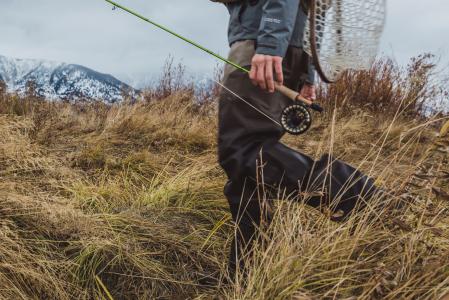 Whether you are an expert angler or learning to cast for the first time, Jackson Hole is a mecca for incredible fly fishing. September through October is the best time to get out on the water. There are dozens of species of fish that live here, but while in Jackson Hole, it's a must to go for the native fine-spotted Cutthroat Trout. Visit the Wyoming Fish and Game Department to learn more about fishing rules and regulations.
4. Local Events
Jackson Hole and The Wort Hotel hosts countless events throughout the year. One of the fall's biggest attractions is the Jackson Hole Fall Arts Festival. The 2020 Jackson Hole Fall Arts Festival is September 9th - 20th. The 36th-annual Fall Arts Festival returns to its trusted roots amid the pandemic – highlighting the best works from the best artists in Jackson's world-class galleries. This year there will be live, in-person, and virtual events. Nationally and internationally-recognized artists will be featured throughout Jackson's galleries in exhibits and curated shows and sales during the 36th annual Fall Arts Festival. Many locally-represented artists also plan to visit Jackson during the festival, appearing at receptions, meet-and-greets, and live studios. At the center of it all, featured artist Thomas Blackshear will be signing commemorative posters and taking the stage at the QuickDraw & Auction. Learn more about the scheduled shows and events here.
Stay With The Wort
This fall, make The Wort Hotel your basecamp and return each evening to the comfort and luxury that only this award-winning hotel can provide. Book one of our hotel packages and you can save on your stay.