Wildlife Tour
Jason Williams, CEO of Jackson Hole Wildlife Safaris, said, "Fall is a great time to view Jackson Hole's abundant wildlife for several reasons. Not only does cooler weather make animals more active, the fall is also a time of change including migration, mating, and preparing for a long mountain winter. All of this, combined with fall colors and early snowfall in the mountains, makes fall one of my favorite times to experience Jackson Hole." Jason and his team can take you on an unforgettable wildlife safari while you are here. In the fall, visitors can expect to see bears (both black and grizzly), moose, bugling elk in rut, bison and all kinds of birds migrating south. It is a beautiful season to reconnect with nature.
Hiking Grand Teton National Park
Fall is the best time to take advantage of Grand Teton National Park. The crowds have died down and you will feel like you have the park to yourself. On top of your solitude, you will have a front row view to the beautiful fall foliage. The trees go through an elaborate progression that peaks in late September, transitioning from yellow to burnt gold before turning a deep red and emptying their branches. Popular hikes include Phelps Lake, Bradley-Taggart, Cascade Canyon and Granite Canyon. Be prepared for backcountry hiking with knowledge of the area, water and food, and bear spray for the remote chance of a close encounter.
Be sure to read the Grand Teton National Park's seasonal road closure, as some roads will close in November.
Fly Fishing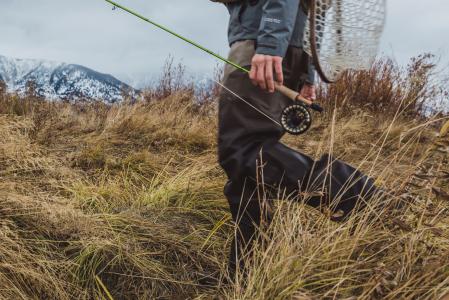 Whether you are an expert angler or learning to cast for the first time, Jackson Hole is a mecca for incredible fly fishing and September through October is the best time to get out on the water. There are dozens of species of fish that live here, but while in Jackson Hole, you have to go for the native fine-spotted Cutthroat Trout. Visit the Wyoming Fish and Game Department to learn more about fishing rules and regulations.
Local Events
The 2019 Jackson Hole Fall Arts Festival is September 4th - 15th. In its 35th year, this festival is widely recognized as one of the premier cultural events in the Rocky Mountain West. Thousands of art enthusiasts are drawn each year to experience the diverse artwork and breathtaking natural surroundings that make Jackson Hole a leading cultural center. Visitors will appreciate the works of nationally and internationally acclaimed artists along with an exceptional array of events featuring music, cuisine, and wine. More than fifty events round out the entire festival. To learn more on the Fall Arts Festival, click here.
Early autumn also means time for road races in Jackson Hole, from the annual LOTOJA— a 210-mile interstate bike race from Logan, Utah, to Jackson Hole—and Old Bill's Fun Run for charities, a favorite event for locals and visitors alike.
Stay With The Wort
This fall, make The Wort Hotel your basecamp and return each evening to the comfort and luxury that only this award-winning hotel can provide. Book our Peace and Serenity package and you'll receive two tickets to tour the National Museum of Wildlife Art and breakfast for two each morning in our Silver Dollar Grill.