The 2021 Jackson Hole Fall Arts Festival is September 8th - 19th. In it's 37th year, The Fall Arts Festival is the premier art festival of the Rocky Mountain West. Nationally and internationally-recognized artists will be featured throughout Jackson's galleries in exhibits and curated shows and sales during the 37th annual Fall Arts Festival. View the full schedule of shows and events here.
2021 Fall Arts Festival Featured Painting "The Wort Hotel" by Gary Lynn Roberts will be auctioned live during the QuickDraw.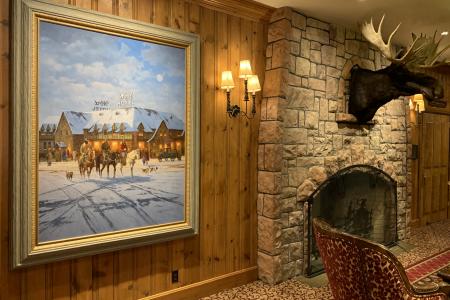 Schedule of Events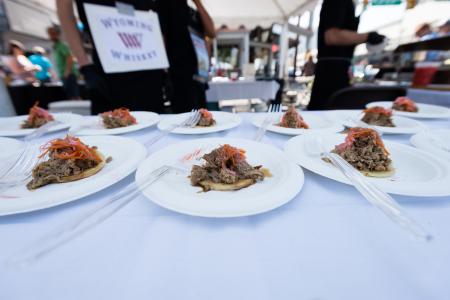 2021 Featured Painting
After months of perfecting one of his self-proclaimed "best works yet", Gary Lynn Roberts of West Lives On Gallery released the 2021 Fall Arts Festival (FAF) featured artwork, 'The Wort Hotel', on June 15, 2021. The painting, which will celebrate the festival's 37th year, makes Fall Arts Festival history by being the first featured artwork to depict downtown Jackson using actual historical photographs from the early 1940s.
Robert's featured artwork is a historic oil on canvas representing The Wort Hotel, one of Jackson's finest boutique hotels since 1941. Depicting "where the old meets new," says Roberts, the 48 x 64-inch snow-themed masterpiece tells a story of Jackson's history with three cowboys walking down the street accompanied by their dogs surrounded by beams of light projecting from the windows of the famous Wort.
Robert's connection with the subject of the artwork stemmed from over twenty years spent in Jackson and visiting the famed hotel. Roberts affectionately describes his visits to The Wort "like walking into history". Wanting to tell a story of the town circa 1942, Roberts used several Jackson photographs originating from the early 1940s as the foundation and creative inspiration of the painting.
The festival's featured artwork goes to auction live, in-person and online, on September 18, 2021, at one of the nation's most highly anticipated live art events. Roberts' 'The Wort Hotel' will auction during the height of the famous Jackson Hole QuickDraw on Town Square and is expected to sell to bidders within the $50,000 - $75,000 price range. For more information on the QuickDraw and to see festival updates, visit the Fall Arts Festival events page.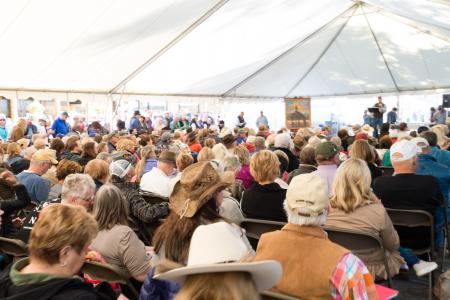 Why Stay With The Wort
If you attend the Fall Arts Festival, The Wort is the best lodging option around. The Wort is steps away from the finest art galleries, restaurants, and shopping. Also, what better place to stay than at the historic hotel featured as the 2021 Festival painting? Forbes Travel Guide recommends The Wort Hotel during September because of its proximity to all of the festival activities and local art galleries. To see what else Jackson Hole has to offer in the fall, click here.