Breakfast from 7:00 - 11:00 am
Fuel up for your big day with a hot breakfast at the Silver Dollar Grill. We have all your favorites, from build-your-own omelets to hearty biscuits and gravy, fresh buttermilk pancakes hot off the griddle, and lighter fare. Come one, come all, and bring your appetites with you.
Jackson Hole 4th of July Parade at 10:00 am
The parade is an annual tradition that celebrates small town culture, ranching history, America's independence, and community. Starting at The Jackson Hole fairgrounds, it proceeds down Glenwood Ave., passes near Town Square on Broadway Ave., then returns to the fairgrounds via S. Willow St. Festivities include music, horses, clowns, classic cars, and more. Click here to register a float or learn more.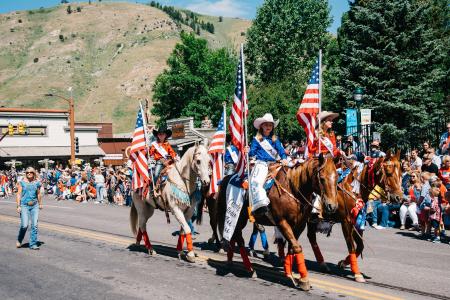 Picnic Buffet from 11:00 am - 2:00 pm
Join us in the Silver Dollar Bar & Grill for our 4th of July Picnic Buffet. We will have all the classic items including BBQ Pulled Pork, Grilled Chicken Quarters, Hot Dogs, Mac & Cheese, Cole Slaw, Potato Salad and Sweets. See the full menu here. Reservations are recommended, please call 307-732-3939.
Town Square Shootout at 6:00 pm
Witness frontier justice play out before your very own eyes on the Jackson Town Square in what is the longest, continuously running shootout show in the country! It is estimated that over 4 million people have witnessed this shootout over the years. This event is free and open to the public, just head to the northeast corner of the square around 5:30 pm to get a good spot to view the action.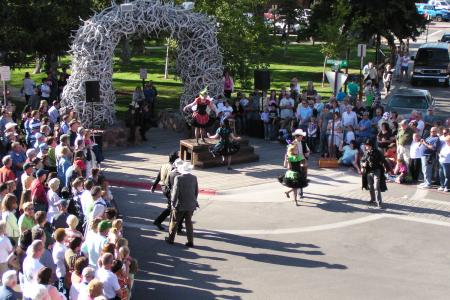 ​Jackson Hole Rodeo at 8:00 pm
The rodeo is regularly held during the summer season at the Teton County Fairgrounds. The 4th of July Rodeo is a western tradition, and in Jackson Hole, the tradition has carried on for more than 100 years. Come see for yourself what it's all about. Visit the rodeo website for tickets or more information.
Fireworks at 10:00 pm
Top off your evening with dazzling displays of fireworks over the mountains. Enjoy fireworks shows at 3 locations:
1. Stilson Transit Center
2. At the base of Jackson Hole Mountain Resort in Teton Village
3. At the base of Snow King Mountain in the town of Jackson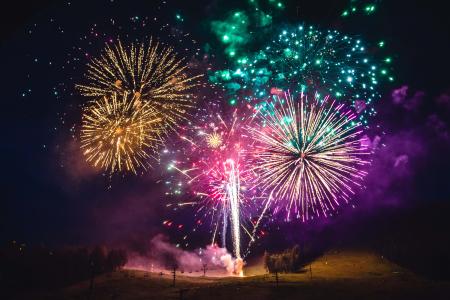 Jackson Hole Accommodations for July 4th
The Wort Hotel is the best lodging option during the holiday weekend. Located steps from Town Square, The Wort's downtown location is walking distance to all the weekend activities, restaurants, galleries, shops and nightlife. Please contact us today to book your reservation with The Wort Hotel.
Toll Free: (800) 322-2727
Local Phone Number: (307) 733-2190