BIKING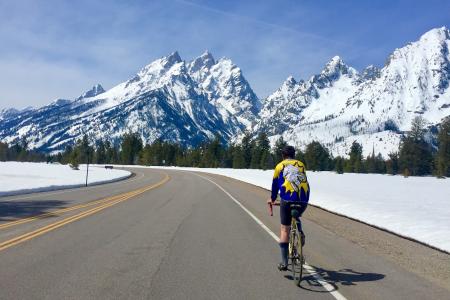 In April, the inner park road in Grand Teton National Park is closed from Bradley Taggart Trailhead to Signal Mountain Lodge. It's a great time to hop on a road bike for a long ride or take out your cruiser and pack a picnic to enjoy on the side of the road, in front of the stunning Grand Tetons. Most bike paths are open year round, but the bike path adjacent to the National Elk Refuge opens to the public on May 1st (to allow for elk migration). If you enjoy a long dirt road, check out the National Elk Refuge Road, in East Jackson (1 mile from the hotel). This road is popular with runners and bikers in early spring. The road is an out and back and over 7 miles round trip out to the winter closure area (which opens on May 1st). The Jackson Hole Region also has over 100 miles of bike paths. To view a map of the bike path network, click here.
HIKING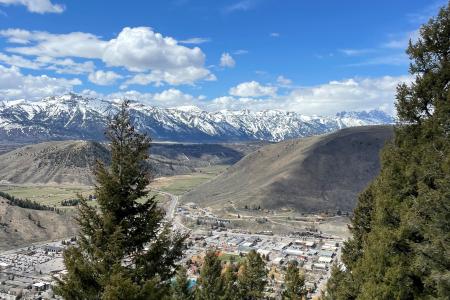 Early spring, hiking is rather limited but High School Butte is a local's favorite. This short hike is kid friendly and your reward is a nice view of the town and surrounding areas (no Tetons though). After May 1st, other in-town hikes are available, with Josie's and Crystal Butte being the most popular. Josie Ridge Trail winds through the forest and then opens up to a face with 5 switchbacks. The views of Teton Pass and the southern Teton Range are beautiful and if you make it to the top of the ridge (around 1,300 feet), you will be rewarded with a glimpse of the Grand Teton. Crystal Butte is a steep, loose trail and is for expert hikers only. For those who are in for the challenge, the views of Snow King, the Town of Jackson and the Tetons are stunning. Lastly, Cache Creek has wonderful hiking trails that are easy walking or great for trail running. This area is also popular with mountain bikers, once the trails melt out. Click here for a trail map of the trails surrounding the town of Jackson.
There is not much hiking available outside of the downtown area until June, as most trails in Grand Teton National Park and the Gros Ventres are still snow covered. Of course, this depends on how much snow the area received that winter. Be sure to check out Grand Teton National Park's current conditions page, before you set out for the day.
FLY FISHING
Fly fishing in April and early May is great, until the days become warmer, and the river becomes "blown out". The warm days melt the snow in the high peaks and the snow melt causes higher water levels and faster moving water, which turns the river to a chocolate milk color. When the river is blown out, fish have trouble spotting flies, so it isn't the best time to fish. July through October are ideal fly fishing months. Our Concierge is happy to help you book your fly fishing trip and will be able to let you know whether it's a good idea to fish during your visit, or keep it on the list for another time.
WHITEWATER OR SCENIC RAFTING
Rafting in Jackson Hole is an exhilarating experience with stunning scenery and is available as early as mid-May. If you are seeking adventure, we recommend the 8-mile whitewater rafting stretch in the Snake River Canyon, just South of town. Due to the snowmelt, the river level is typically "up", or high, which can create a more thrilling whitewater rafting experience. Tips: Our Concierge can book you a trip with a reputable company, be in good physical condition, wear sunscreen, and be prepared to get wet. For those looking for a more mellow experience or for those with little children, a scenic rafting trip is a great option.
WILDLIFE VIEWING & SCENIC DRIVES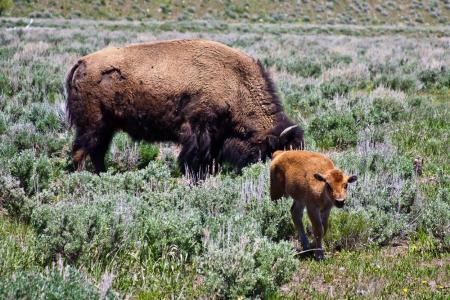 You can spot wildlife year-round in Jackson Hole. Spring is a great time for wildlife viewing because the bears are active after emerging from their winter dens and there are baby animals galore. You can book a wildlife safari through our Concierge, or explore the area on your own. Gros Ventres Junction to Antelope Flats Road to Kelly Junction is a great scenic loop to drive. On this loop you are likely to see bison and possibly moose, as well as the historic Moulton Barn, additionally in May the loop boasts fields of Arrowleaf balsomroot flowers. The flowers are a brilliant yellow color and cover the valley floor, in striking contrast to the snowcapped peaks.
No matter what you're looking for, you're sure to find something to enjoy in Jackson Hole during the spring. So come on out and explore all that this beautiful town has to offer!
Here are some other things to keep in mind when planning your trip to Jackson Hole in the spring:
The weather can be unpredictable, so it's important to pack for all types of conditions.
Many of the roads in the mountains are closed in the spring, so be sure to check road conditions before you go.
Mid-April to early May is considered our off season, so some restaurants and shops close during this time of year.
There are a variety of festivals and events happening in Jackson Hole in the spring, so be sure to check the calendar to see what's happening during your visit.
Ask our Concierge for more recommended activities during your visit