45th Annual Snowmobile Hill Climb
The Jackson Hole hill climb - This annual event at Snow King Mountain Resort, is just a short walk from The Wort Hotel. What makes this event worth watching? Snowmobilers from all over race to the top of a 1500 ft. vertical rise mountain. As you can imagine, there are plenty of falls and flips, which provides lively entertainment for spectators. Watch the excitement from Snow King as the snowmobiles racing to the top. The World Championship Snowmobile Hill Climb is cohosted by Snow King & the Jackson Hole Snow Devils.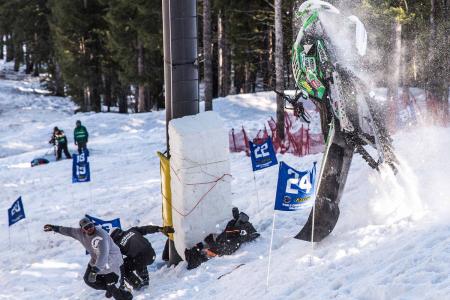 Join us at Snow King for the World Championship Snowmobile Hill Climb with all the speed, spills, and thrills you expect.
A Prime Location
If you need a break from the excitement, visit the Silver Dollar Bar & Grill, located inside the historic Wort Hotel. They have daily happy hour from 4-6pm as well as music on Thursday-Saturday nights.
Grab Your Spot Now
This is a popular event, so don't wait to book your lodging. Our friendly and knowledgeable concierge can help you plan your stay ahead of time.