A Memorial Day Tradition
Jackson Hole's Old West Days, is held annually over Memorial Day weekend and celebrates the town's identity as "The Last of the Old West". With the area's exceptionally rich history, it's no wonder Old West Days is a favorite among tourists and locals alike. This year, there are not as many events but still plenty to do from May 22-31, 2021. Large events, such as The Old West Days Parade and Old West Brewfest are postponed until 2022. The Chamber of Commerce said, "Safety is of the upmost importance as we come out of the Covid Pandemic. For this reason, crowd-gathering events have either been postponed or canceled for 2021."
However, other events are scheduled to go on as planned, such as the daily Jackson Hole Shoot Out, Daily Stage Coach Rides, Bar J Chuckwagon and Memorial Day weekend is also the kick off for the Jackson Hole Rodeo. For a full list of events, please click here.
Million Dollar Music Fest
The Million Dollar Cowboy Bar announced that the Million Dollar Music Fest is on for 2021, with a few changes from 2019. The annual festival will be over 3 nights this Memorial Day weekend and will take place inside the famous Million Dollar Cowboy Bar. The 2021 line-up features Jackson Hole favorites, Midland, Runaway June and Jenny Tolman. Tickets will be available beginning Tuesday, April 20 at 10am (MST) online here.
2021 LINEUP:
Friday, May 28 - Jenny Tolman
Saturday, May 29 - Runaway June
Sunday, May 30 - Midland
After falling victim to the 2020 shutdown, event organizers were intent on finding a way to present live music at The Million Dollar Music Fest in 2021. Jim Waldrop, president of Silver Dollar Inc., (parent company of The Cowboy Bar) said, "Just as we've done with all of our music over the last year, these indoor shows will follow current state and local health guidance. They will be sit-down-only, with a limited capacity which will allow our guests to enjoy the immense talent we're presenting while confidently remaining safe." Tickets for each show will be sold by-the-table only. Barstools, Two-top and four-top tables will be available to the public beginning Tuesday, April 20th at 10am (MT).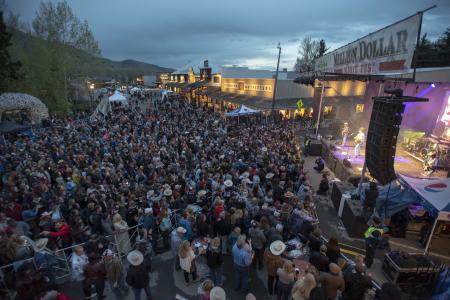 The Million Dollar Music Fest made its debut in 2019 on the historic Town Square of Jackson, WY, attracting more than five thousand people to the mountain town. The event, which is presented by The Million Dollar Cowboy Bar, and sponsored by the Jackson Hole Travel and Tourism Board, Jackson Hole Chamber of Commerce and Wyoming Whiskey, serves to energize Old West Days by celebrating Jackson's western heritage and cowboy culture in grand Wyoming style.