Where to Stay in Jackson Hole
The Wort Hotel – The Wort Hotel is right in the middle of the action in downtown Jackson Hole. Located just a block from the Town Square, The Wort is only steps away from the best dining, shops, galleries and nightlife. Read more about things to do within walking distance of the Wort right here.
The Wort is also home to the Silver Dollar Bar where we are sure you and the girls will find yourself on most nights.
5 Great Places to Eat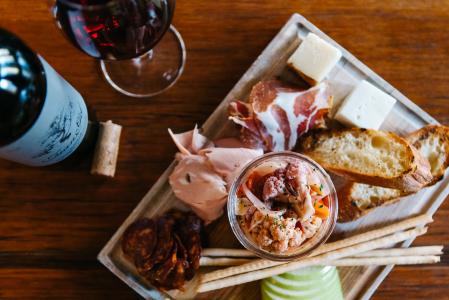 1. Persephone Bakery - This is a must visit for breakfast or lunch. The bakery has been a longtime local favorite for French-style pastries, coffee, and sweets.
2. Bin22 - Jackson Hole's premier wine bar. Bin22 offers a small wine shop and grocer experience commonly found in Italy. There is a small "family style" restaurant located in the back of the wine shop and this is the ideal place to catch up over a bottle of rosé and their house-pulled mozzarella.
3. Dinner at the Million Dollar Cowboy Steakhouse - This is a great intimate setting for dinner with the girls. The Steakhouse features choice cuts of meats, seafood as well as an extensive cocktail and wine list, making it the perfect place for an upscale dining experience. Located downstairs from the iconic Million Dollar Cowboy Bar, stop by any day of the week for lunch and dinner! This is a Jackson Hole experience you can't miss.
4. Glorietta - An Italian Trattoria with specialty handmade pasta, delicious crafted cocktails and an impressive wine list focusing on Italian wines. The second you walk in, you feel welcomed, warm and cozy.
5. King Sushi - The place for sushi in Jackson Hole. Located in a cute little historic cabin in downtown Jackson, King Sushi features happy hour specials, hand rolls, sashimi and all prepared with the freshest ingredients.
3 Top Places for Drinks in Jackson Hole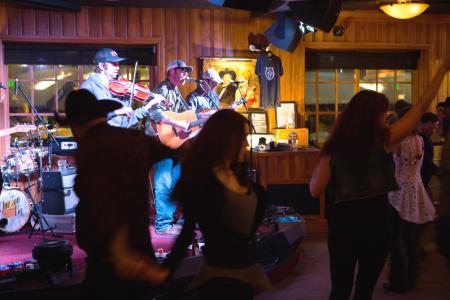 1. Silver Dollar Bar - Located inside The Wort Hotel, the Silver Dollar is a great place to grab a seat at the bar and enjoy live music. We recommend ordering a Bartender's Margarita and watching the dancers twirling and 2-stepping all over the dance floor. Maybe you and the girls will join in.
2. Million Dollar Cowboy Bar - This is one location you cannot miss. The famous Million Dollar Cowboy Bar is an iconic western honky-tonk complete with genuine saddle bar stools. The Cowboy Bar also has live music and a dance floor filled with people from all walks of life.
3. Million Dollar Cowboy Steakhouse - Features an extensive cocktail and wine list. The Steakhouse provides an intimate environment to enjoy close company.
What to do in Jackson Hole in Winter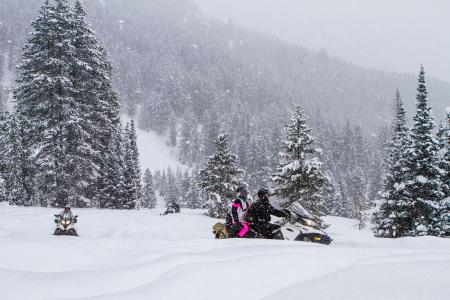 1. Snowmobiling to Granaite Hot Springs - There are many great areas for snowmobiling in the area, including Yellowstone National Park, Togwotee Pass or Granite Hot Springs. Bonus- if you do a snowmobile trip to Granite you can enjoy a nice dip in the hot spring pool amongst towering spruce, fir and pine trees.
2. Elk Refuge Sleigh Ride - Jackson is lucky to have an Elk Refuge just minutes outside of downtown Jackson. The National Elk Refuge is home to over 1,000 elk and other various wildlife. You can take an hour-long sleigh ride on the refuge and learn all about Jackson Hole and the elk that inhabit the area.
3. Astoria Hot Springs - Reward yourself and your achy muscles to a relaxing soak in one of our natural hot springs. Astoria Hot Springs is located 15 minutes south of town, right on the famous Snake River. Enjoy 4 different pools, including a children's pool, snacks and refreshments onsite.
4. Skiing Jackson Hole Mountain Resort - Jackson Hole Mountain Resort is located 20 minutes away from the hotel. We provide a ski shuttle that departs in the morning and returns in the afternoon. Once you call it a day, be sure to grab a drink at the favorite après ski bar at the base of the mountain, the Mangy Moose.
5. Visit Snow King Mountain - Let gravity take control of your snow tube for the ride of your life down the groomed run and then catch the free tube lift back to the top. Located at the base of Snow King Mountain in the Town of Jackson, this activity offers fun for all! If you are feeling a little more adventurous, take a ride on the Cowboy Coaster. Ride the gondola up the mountain and enjoy Teton views on foot or gear up and get skiing!
For more ideas on what to do in winter in Jackson Hole, check out our winter activities blog!
What to do in Summer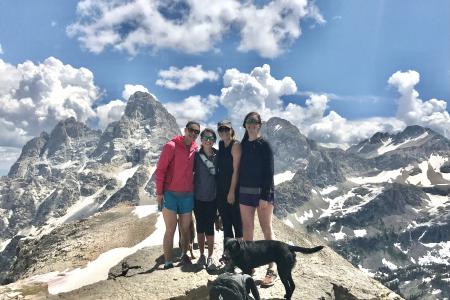 1. Hike - Hiking in Jackson Hole is hard to beat, from river walks to boulder scrambles to mountain panoramas. We can help you choose from the area's best hikes and clue you in on what to know before you go, or if you are unfamiliar with the area, we can set you up with a hiking guide.
2. Snake River Float Trip - Rafting is a very popular summer activity among groups. You have the option to do an 8-mile whitewater rafting trip down the Snake River or choose to do a scenic float. A popular option for groups is a sunset scenic float through Grand Teton National Park.
3. Horseback Riding - No trip to Jackson Hole is complete without embracing the Cowboy States' favorite pastime, horseback riding. With many outfitters around the valley, Jackson Hole is a great place for passionate riders and for those who are wanting to experience a horseback ride for the first time.
For more ideas on what to do in summer in Jackson Hole, check out our summer activities blog!
3 Great Places to Shop in Jackson Hole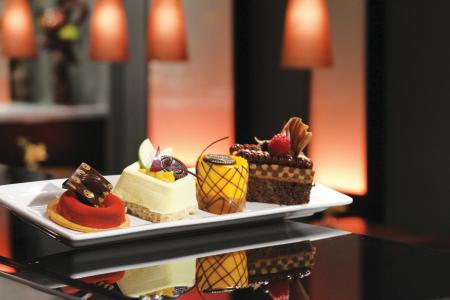 1. Made - The best place to get a souvenir from your trip. With handmade items from more than 360 American artists, shoppers can be sure that quality and care have been put into every item–from jewelry and pottery to leather goods and glassware.
2. CocoLove - Owned and operated by Master Chocolatier Oscar Ortega and features world-class pastries, artisan chocolates, desserts and award-winning gelato. His shop is conveniently located across the street from The Wort Hotel, if you happen to get a late night sugar craving!
3. JW Bennet - Hand-made custom hats and hatbands in a contemporary Western style.