1. Wildlife Tours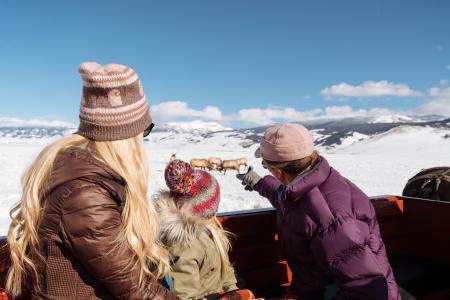 Wildlife tours are available year-round. They are a great way for a group to see the area and see some of our local wildlife such as elk, moose, deer, bison, bears, and wolves. You could also schedule a photography tour with many companies. In this option, you will be chartered around Jackson Hole, Grand Teton National Park or Yellowstone National Park in search of wildlife so you could go home with numerous wildlife pictures to enjoy as a memento.
Jackson is also lucky to have an Elk Refuge just minutes outside of downtown Jackson. The National Elk Refuge is home to over 1,000 elk and other various wildlife. You can take an hour-long sleigh ride on the refuge and learn all about Jackson Hole and the elk that inhabit the area.
2. Dog Sledding Tours

Are you ready for the trip of a lifetime? A musher guide and a team of sled dogs will pull you through the wilderness where you'll learn about local wildlife and spot deer, elk, moose, bighorn sheep, and bald eagles. You can choose from a half or full-day dog sledding adventure. You might even be offered a chance to drive the team yourself.
3. Snowmobiling
Yellowstone National Park is located an hour away from the hotel. In the winter you can snowmobile into Old Faithful and have lunch at the Snow Lodge and then snowmobile back in a day. The views are stunning and with the park being empty during the winter, the wildlife viewing is unbeatable.
Togwotee Pass is also located an hour away and is known for its world-class snowmobile terrain. You can do a half-day or full-day of snowmobiling on the groomed trails or take your skills to the next level and ride off-trail in the powder.
4. Visit Snow King Mountain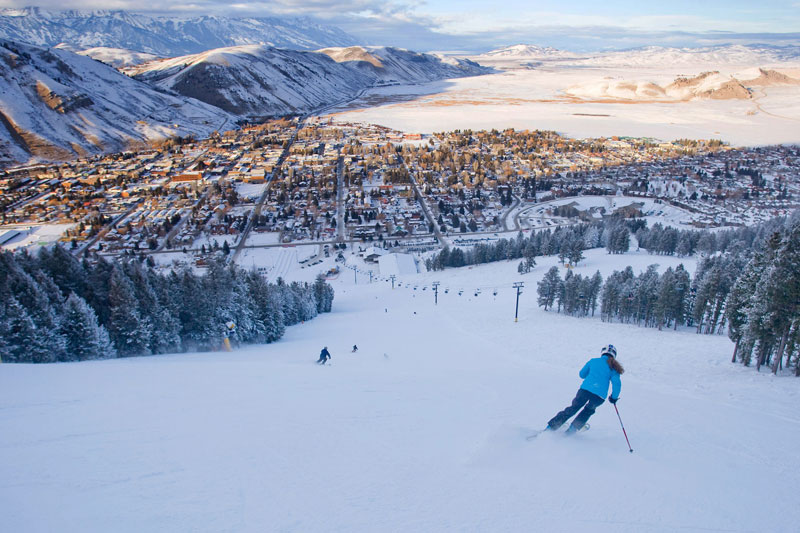 Giggle and scream like a kid again when you go tubing at Snow King Mountain. Let gravity take control of your snow tube for the ride of your life down the groomed run and then catch the free tube lift back to the top. Located at the base of Snow King Mountain in the Town of Jackson, this activity offers fun for all!
If you are feeling a little more adventurous, take a ride on the Cowboy Coaster. Ride 456 feet up the mountain and enjoy Teton views on the way down along with hairpin turns at an exhilarating speed.
5. Ice Skating

Enjoy old-fashioned fun of ice skating in Jackson Hole. There are two well-maintained rinks, one on the Jackson Town Square and one in Teton Village. At the Town Square rink, glide beside Jackson's famous elk antler arches and beneath the twinkling lights covering town square. All outdoor skating is free, with the only cost being skate rentals if you don't have your own.
6. Snowshoeing or Cross Country Skiing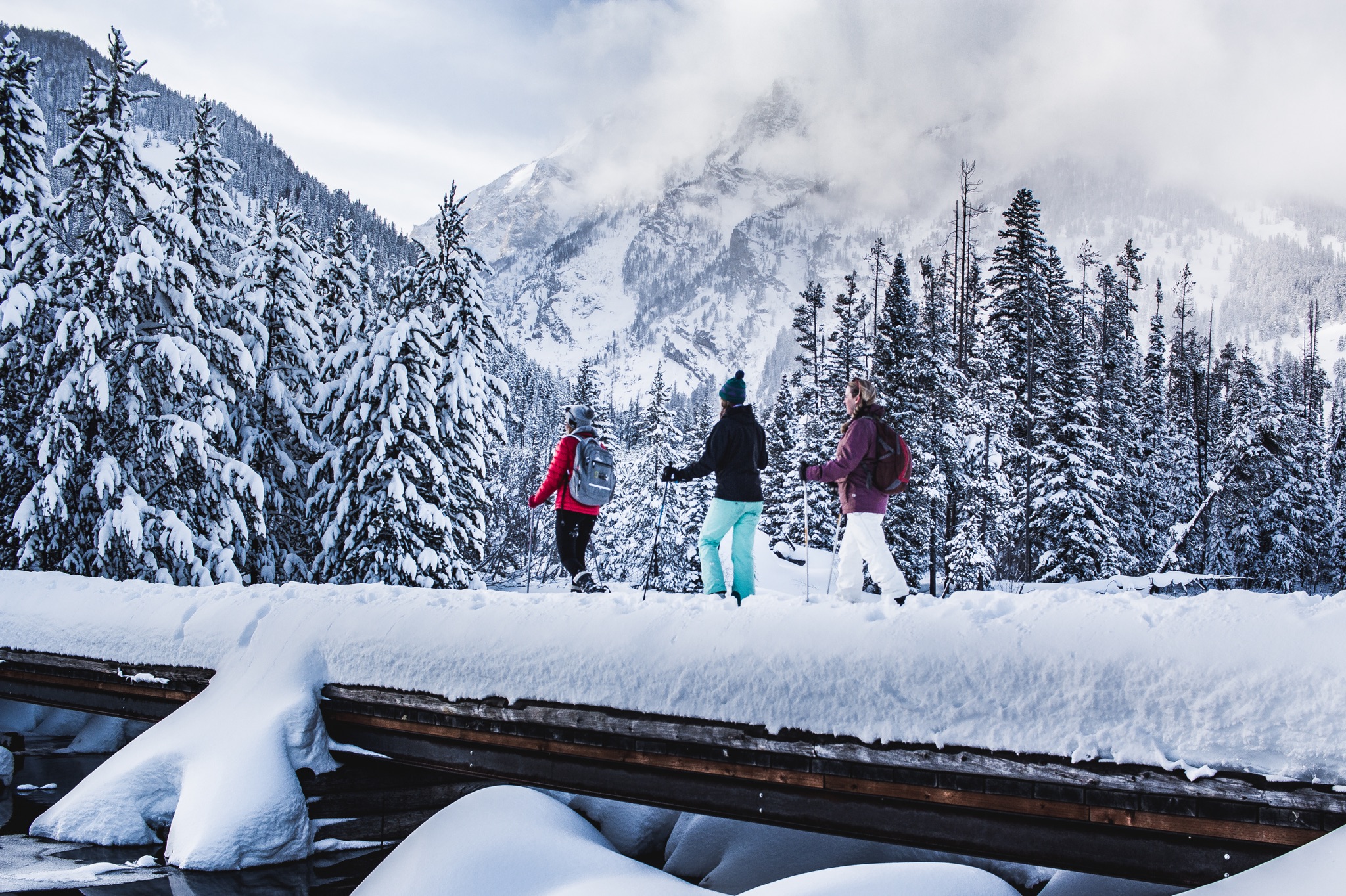 Explore the backcountry at your own pace, no experience is necessary. If you can walk you can snowshoe! Get away from the crowds and explore your national park today with a hired professional and knowledgeable backcountry guide or feel free to explore on your own.
Cross-country ski is also a great option. The valley offers many professional guides that will teach you about the history and geological aspects of the area and the views are also a bonus. Snowshoe and cross country ski equipment can be rented at Skinny Skis, which is located right next to The Wort Hotel.
7. Relax in our Hot Springs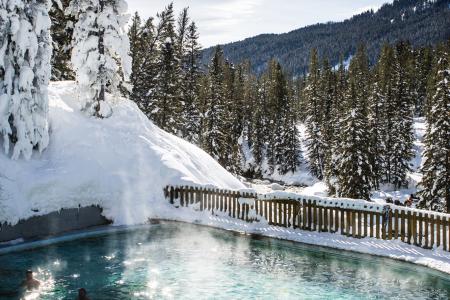 Reward yourself and your achy muscles to a relaxing soak in one of our natural hot springs. Astoria Hot Springs is located 15 minutes south of town, right on the famous Snake River. Enjoy 4 different pools, including a children's pool, snacks and refreshments onsite.
The Granite Hot Springs Pool is located at the end of the Granite Creek Road, south of Jackson. It is a developed, concrete hot spring pool situated alongside Granite Creek amongst towering spruce, fir and pine trees. In the winter, the pool can only be accessed on snowmobile, dog sled, skiing, or fat biking.
8. Shopping and Dining

For being such a small town, Jackson Hole offers a wide variety of shopping and dining options. Located just a half block from us is the historic Town Square, with its iconic antler arches and some of the best art galleries, local boutiques, western apparel and gifts, as well as major retailers. Jackson Hole also has quite an impressive food scene and is home to 3 local breweries (Snake River Brewing, Roadhouse Brewing and Melvin Brewing) as well as Jackson Hole Winery.
9. Dinner at The Cowboy Steakhouse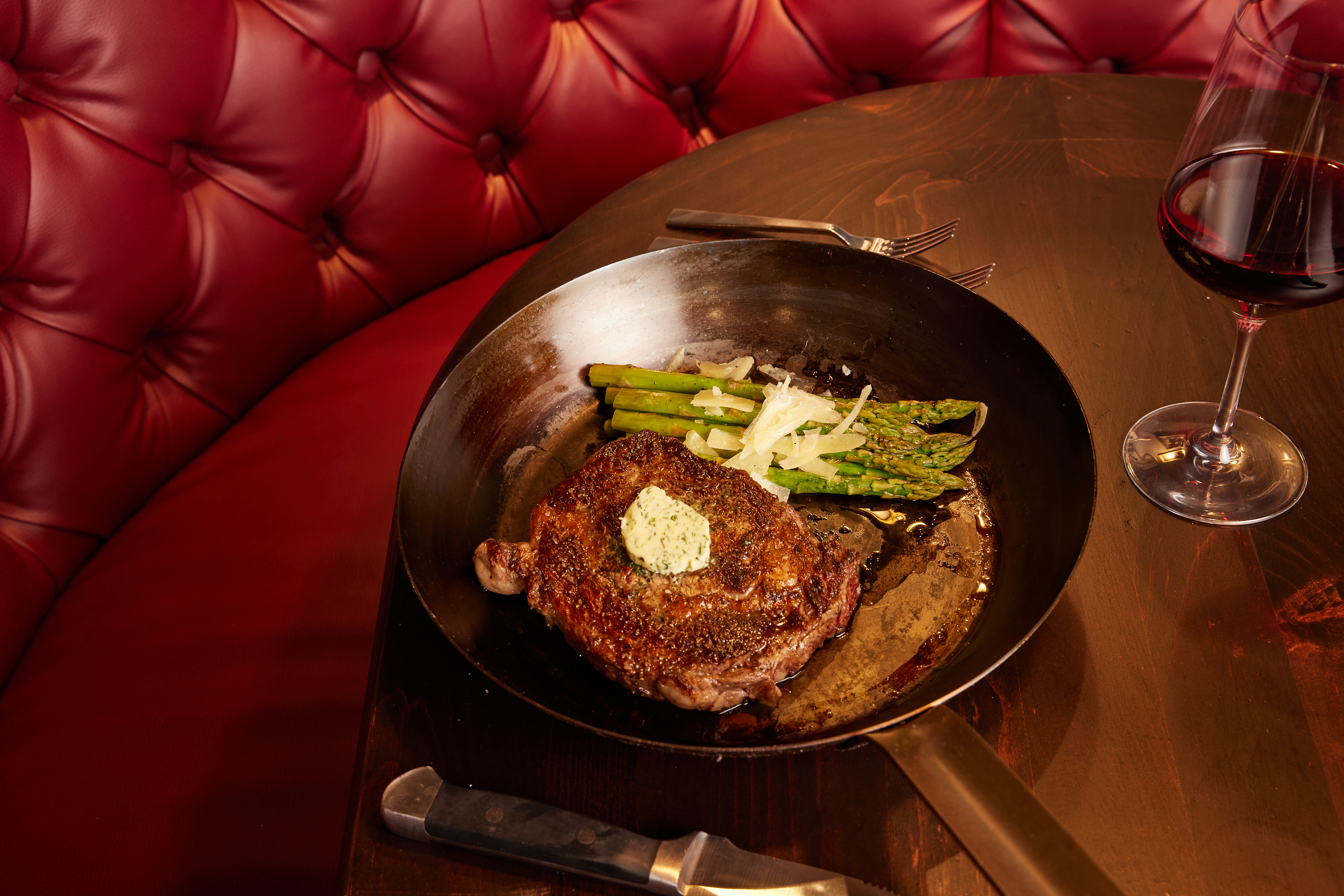 The Million Dollar Cowboy Steakhouse, located downstairs from the iconic Million Dollar Cowboy Bar, is open for lunch and dinner. With key designed elements from the bar upstairs utilized throughout the restaurant, the Steakhouse celebrates the lore and history of the Million Dollar Cowboy Bar. The walls tell the story of the legendary bar.
The Million Dollar Cowboy Steakhouse features traditional Steakhouse fare, with choice cuts of meats, seafood as well as an extensive cocktail and wine list. This is a Jackson Hole experience you can't miss. Be a part of the western tradition of fine food and drink with friends and family. All ages are welcome. Make a reservation here.
10. Night Life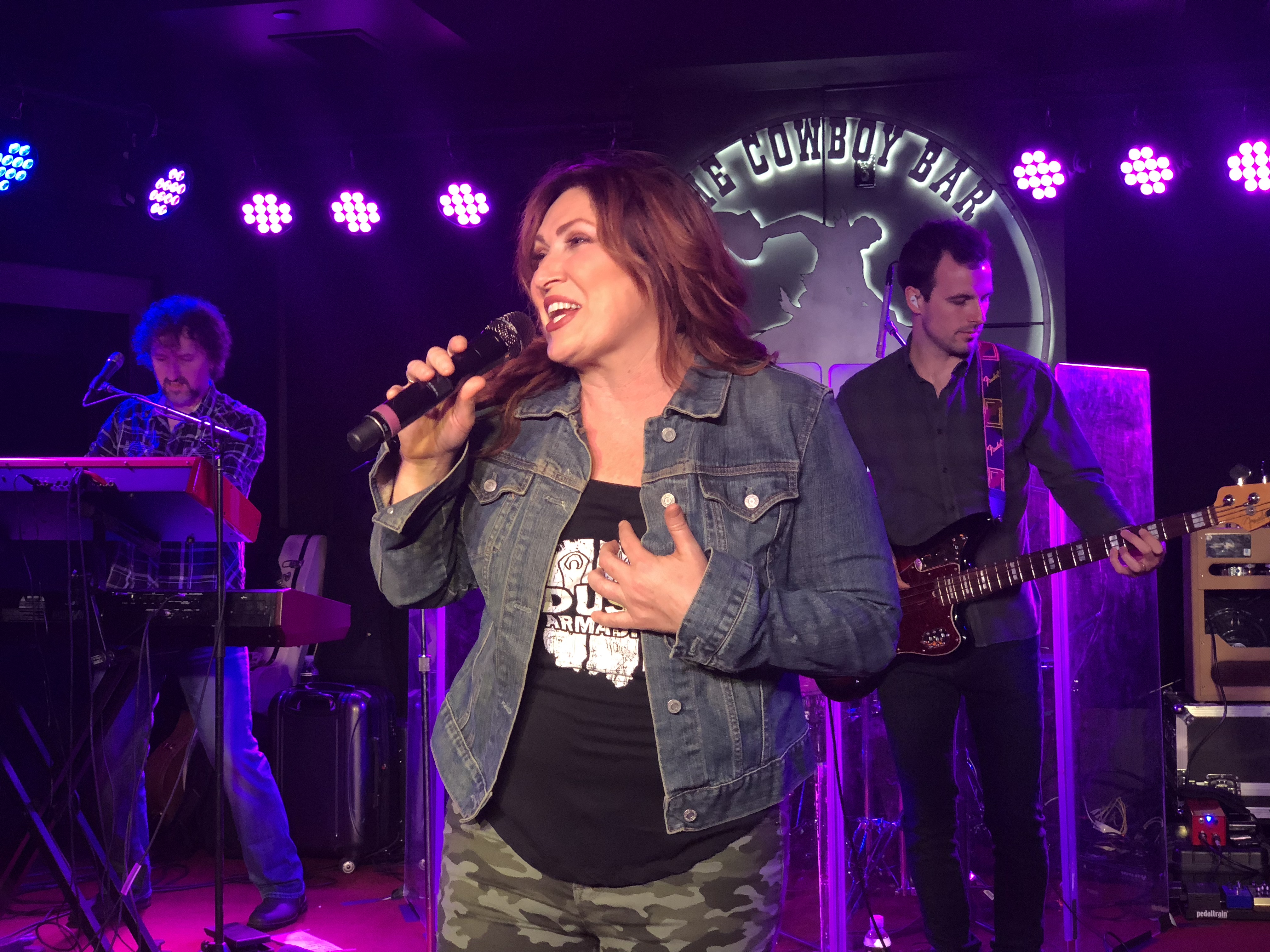 Head upstair after your steak dinner to The Million Dollar Cowboy Bar, Wyoming's landmark watering hole, for live music! If you haven't taken a photo of the neon cowboy sign have you really even been to Jackson?! Be sure to sit on a saddle or enjoy some live music at the Million Dollar Cowboy Bar. Although the bar is ages 21 and over the Million Dollar Cowboy Steakhouse open to all ages.
The Million Dollar Cowboy Bar is a unique Western drinking and entertainment venue that was established in 1937. True to its name, the Million Dollar Cowboy Bar is no ordinary bar. Countless celebrities, presidents, royalty, cowhands, as well as people from all walks of life, have enjoyed great fun within the walls of the iconic Million Dollar Cowboy Bar.
The Million Dollar Cowboy Bar is internationally famous for its western dancing and live entertainment. Some of the finest entertainers in the country western scene have been known to take the stage here, including Waylon Jennings, Hank Williams Jr., Asleep at the Wheel, Hoyt Axton, Glen Campbell, Tanya Tucker, Willie Nelson, Commander Cody, and the James Cotton Blues Band. Nowadays, The Cowboy provides live music and continues to feature local and nationally recognized bands. View full music schedule here.
Also be sure to check out The Silver Dollar Bar and Grill, located inside The Wort Hotel, for live Music. The Bar features streetside windows that are perfect for people watching in downtown Jackson Hole and a great menu of signature items like burgers and elk gyros, plus a large wine list and unique cocktails. Enjoyed by locals, visitors, cowboys, politicians and millionaires, we invite you to make your mark in the history of the famous Silver Dollar Bar. We do not accept reservations in the Silver Dollar Bar, it is on a first come first serve basis. You must be 21 to enter the bar past 6pm.
To learn more or to book any of these activities for your upcoming vacation, please get in touch with our concierge.