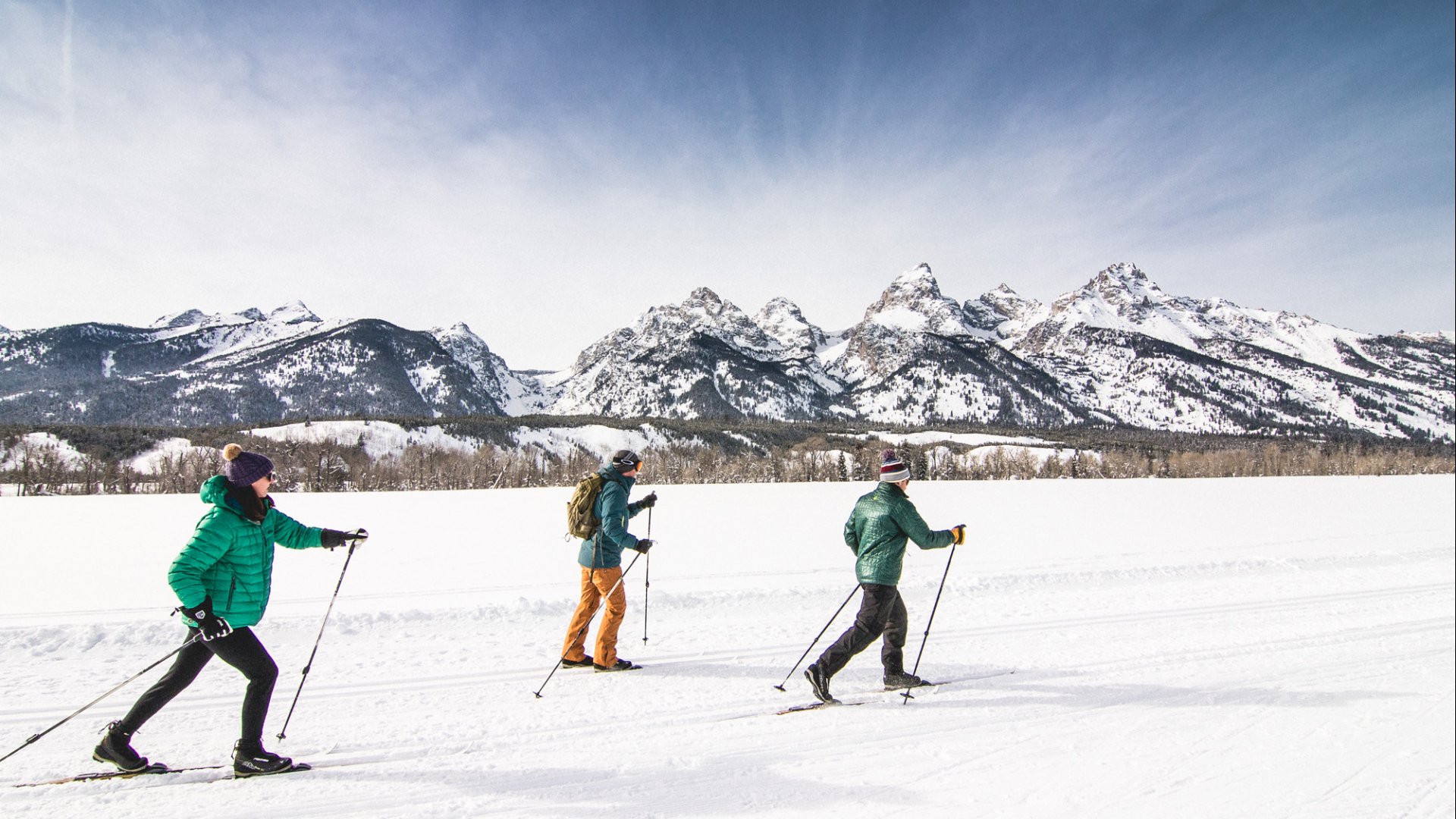 Jackson Hole Activities
Jackson Hole is a vibrant, active community with a vast array of exciting things to do.
The Wort Hotel's downtown location offers the perfect place to experience everything Jackson Hole has to offer. Walking distance from The Wort is shopping, dining, museums, art galleries, live music and dancing. The Jackson region is known internationally for its amazing outdoor opportunities. Hiking, fly-fishing, white-water rafting, world-class skiing & snowboarding, and wildlife tours in Yellowstone and Grand Teton National Parks are only some of the activities available to our guests. Our friendly staff and concierge service will gladly share their inside knowledge about all of the things to do in Jackson to ensure your stay at The Wort Hotel provides a complete Jackson Hole experience.
Suggested Activities
What to do in Jackson Hole in the Winter
Skiing
Jackson Hole Mountain Resort is located 20 minutes away from the hotel. We provide a ski shuttle that departs once in the morning and returns in the afternoon. The resort is known for its steep terrain, but they have made an effort to develop more blue terrain over the past few years. Snow King Mountain is another option for those wanting to stay in town. It is located a half-mile from the hotel has a mountain coaster, ropes course, and a small ski hill.
Snowmobiling
Yellowstone National Park is located an hour away from the hotel. In the winter you can snowmobile into Old Faithful and have lunch at the Snow Lodge and then snowmobile back in a day. You can also go to Old Faithful via a Snow Coach, which is a van with tracks for wheels. The views are stunning and you will see many different animals.
Togwotee Pass is also located an hour away and is known for its world-class snowmobile terrain. You can do a half-day or full-day of snowmobiling on the groomed trails or take your skills to the next level and ride off-trail in the powder.
Dog Sledding
You can snowmobile or Dog Sled into Granite Hot Springs. This activity consists of sledding to the hot springs, enjoying a hot lunch, enjoying a dip in the secluded, natural hot springs and then dog sled out. This activity is highly recommended by guests and locals alike.
Sleigh Ride on the National Elk Refuge
Jackson is lucky to have an Elk Refuge just minutes outside of downtown Jackson. This refugee is home to over 1,000 elk and other various wildlife. You can take an hour-long sleigh ride on the refuge and learn all about Jackson Hole and the elk that inhabit the area.
Snowshoeing
Explore the backcountry at your own pace, no experience is necessary. If you can walk you can snowshoe! Getaway from the crowds and explore your national park today with a professional and knowledgeable backcountry guides. All equipment provided.
Cross County Skiing
Cross-country ski with a naturalist guide beneath the majestic Tetons. The valley offers many professional guides that will teach you about the history and geological aspects of the area. Equipment is available to rent.
Wildlife Tours
You can do wildlife tours year-round. They are a great way for a group to see the area and see some of our local wildlife such as elk, moose, deer, bison, bears, and wolves. You could also schedule a photography tour with many companies. In this option, you will be chartered around Jackson Hole and our two national parks in search of wildlife so you could go home with numerous wildlife pictures to enjoy as a memento.
What to do in Jackson Hole in the Summer
Rafting
Rafting is a very popular summer activity among groups. You have the option to do an 8-mile whitewater rafting trip down the Snake River or choose to do a scenic float. A popular option for groups is a sunset scenic float through Grand Teton National Park.
Golfing
We have three public golf courses with stunning views of the Teton Mountain Range. All three courses are highly sought after and designed by great names. Jackson Hole Golf and Tennis was designed by Robert Trent Jones Jr., Teton Pines was designed by Arnold Palmer and Ed Seay, and the Snake River Sporting Club was designed by Tom Weiskopf.
Scenic Tram Ride
In the summer or winter you can take the tram in Teton Village up to the top of Jackson Hole Mountain Resort. The views are beautiful and you can enjoy a waffle at Corbet's Cabin which is located at the top of the tram. People enjoy this activity for hiking or simply to enjoy the 360 degree views.
Mountain Biking
Jackson is known for having world-class mountain biking for all levels throughout the valley. From the continued expansion of trails at Jackson Hole Mountain Resort and Snow King Mountain to local favorites on Teton Pass, Jackson has riding for every level rider.
Fly Fishing
Whether it's float fishing, wading, or horseback adventures, every trip is designed around each guests' goals in areas loaded with majestic scenery and wildlife. The friendly and experienced guides are great at instructing and getting you onto fish, while also keeping you safe with the highest safety and training standards in the industry.
Hiking
Hiking in Jackson Hole is hard to beat, from river walks to boulder scrambles to mountain panoramas. We can help you choose from the area's best hikes and clue you in on what to know before you go, or if you are unfamiliar with the area, we can set you up with a hiking guide.
Horseback Riding
No trip to Jackson Hole is complete without embracing the Cowboy States' favorite pastime, horseback riding. With many outfitters around the valley, Jackson Hole is a great place for passionate riders and for those who are wanting to experience a horseback ride for the first time.
To learn more or to book any of these activities for your upcoming vacation, please get in touch with our concierge.