What does One Ton Pig sound like?
The 6-Piece progressive bluegrass band combines original hard-luck songwriting with dazzling musicality and the imaginative genre-bending of jam-band musicians blurring the lines between folk, country, Americana, blues, bluegrass, and rock 'n' roll. They have 4 original albums to choose from at their merch perch or on-line at www.onetonpig.com.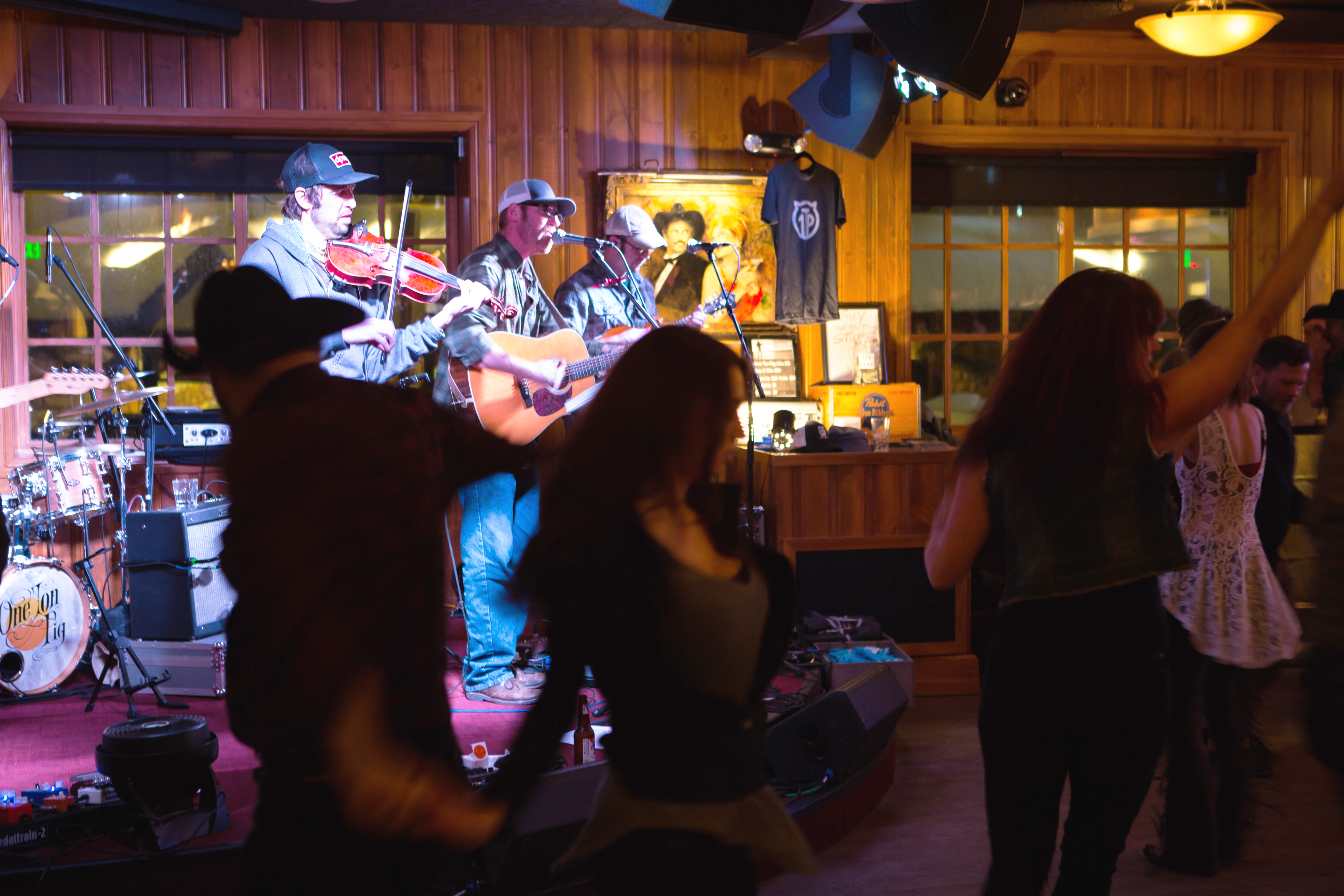 Who makes up One Ton Pig?
One Ton Pig is:
Michael Batdorf (guitar, vocals, main songwriter)
Tim Farris (mandolin, vocals, co-songwriter)
Justin Smith (guitar, vocals, co-songwriter)
Matt Herron (fiddle)
Marty Camino (bass)
and Jason Baggett (drums)
How did One Ton Pig first form?
At the beginning, it was Jim who called founding member Justin Smith and urged him to bring a bluegrass band to the Silver Dollar Stage for Tuesday nights. Justin and Michael connected, brought in a drummer and bass player and finally settled on the name "One Ton Pig." Jim liked the name and the rest is history. On any given Tuesday night, you'll see a variety of folks on the dance floor: from mountain women dancing with cowboys to couples who have been dancing together so long their moves are something to be admired. Novices are welcome - there are plenty of dancers available, men and women alike, who are happy to teach western swing. Click here to read the Jackson Hole News and Guide's article on this music institution.
Silver Dollar Showroom
The Silver Dollar Showroom is Jackson Hole's premier music venue and the perfect setting for this up-tempo music and revelry. In the summer, giant windows open onto to Broadway, spilling music out onto the street while letting mild breezes enter. The intimate setting allows dancing just in front of the stage; while beyond the dance floor there are two bars to choose from with plenty of seating in-between.
Bluegrass Tuesdays are popular any time of the year so it's a good idea to get there early to get a table. The Silver Dollar Bar also showcases a variety of genres playing danceable music on Friday and Saturday nights. Check out our music schedule here to see all upcoming events at The Silver Dollar Showroom.