Jackson, WY – The 2017 Forbes Travel Guide Star Rating list has been announced, and for the fourth year The Wort Hotel is proud to be recognized by earning the prestigious Forbes Travel Guide Four-Star Award.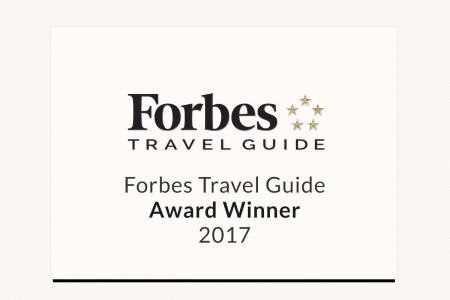 The Wort Hotel, a Jackson Hole icon, opened its doors in 1941 and continues to offer a unique brand of authentic Western hospitality today. Located in the heart of downtown only steps from Jackson's famed Town Square and the famous elk antler arches, the hotel is proud of its longstanding commitment to the guest experience, the community and its employees.
Wort Hotel General Manager, Jim Waldrop said, "This award is always special because this award continues to establish The Wort as one of the top hotels in the country. It exemplifies the consistently high level of service and hospitality that separates The Wort from other hotels. Without the loyalty and dedication of our staff this reward is not possible." Owner Bill Baxter added, "Our family is extremely proud to be the stewards of institution that is The Wort Hotel and to continue to meet the very high standards of the Forbes Travel Guide by receiving this Four-Star Award is especially gratifying. We do recognize that this award is truly about our committed staff, we are so proud of them"
The historic Wort Hotel is a Jackson Hole landmark combining the charm of an authentic Western inn with the luxury and services of a grand hotel. The Wort tradition includes the famous Silver Dollar Bar & Grill, a noted gathering spot for locals and visitors since the mid-1950s, and The Silver Dollar Showroom, Jackson Hole's newest premier music venue. The Wort takes great pride in its commitment to the guest experience, historic preservation and the local community.
About Forbes Travel Guide:
Forbes Travel Guide is the originator of the prestigious Five-Star Rating system, and has provided the travel industry's most comprehensive ratings and reviews of hotels, restaurants and spas since 1958. Forbes Travel Guide has a team of expert inspectors who anonymously evaluate properties against up to 800 rigorous and objective standards in 162 destinations across 42 countries. Forbes Travel Guide is the most prestigious standard for luxury hospitality worldwide. For more information about Forbes Travel Guide, visit their website.
Click here to read Wyoming Business Report's article on the five Jackson Hotel's that made Forbe's 2017 Travel Guide list.