The Wort Hotel is a great place for a small board meeting, executive team meeting or retreat. We also shine when it comes to small family reunions and weddings. Here are some common questions we get:
What is your ideal group size?
We are a small boutique property with only 55 rooms. This is a strength for many of our clients because it means that their group receives a high level of individual attention. I have assisted with printing materials for a group last minute or troubleshooting a projector issue. We are all true hospitality professionals with a strong desire to provide your group with the utmost attention and care. During the peak season of June through July, we do have a group cap of 35 rooms due to the strong FIT demand. During other months of the year, especially April and May or October through early December, we are able to accommodate a larger meeting of up to 45 rooms. Our ideal size is around 35 rooms. We have 3 meeting spaces and find that larger meetings request more meeting space than we have at the hotel. With just over 4,000 square feet of meeting space we can easily accommodate your breakfast and lunch in a separate meeting space from your general session.
What time of year is the best time to visit?
This is a loaded question because it depends on the group. If the group is going to meeting all day most days and is budget conscious, I would steer them to the value months of April, May, November and early December. If they are interested in participating in outdoor activities, I would recommend that the group comes between June and September or January through early March. Summer is the obvious choice due to the warmer weather and more approachable outdoor activities such as golfing, fly fishing or rafting. Winter, however, is a stunning time to visit Jackson Hole. There are unique activity options such as dog sledding and snowmobiling in Yellowstone National Park, but I will get to that later. Rates are going to be high during summer (our standard rate is in the mid $400s to mid $500s), whereas during the winter months it's more affordable (our standard rate is in the mid $200s to mid $300s). During our shoulder seasons, rates can be in the high $100s to $200s. So, I ask you, for your group and your budget, when is the best time to visit? What matters the most to your group? The types of activities available? Your budget? What type of experience are you looking for? Our hotel has live music four nights a week year-round, so even if you are here during the shoulder season, we are able to offer evening entertainment for your group.
What's the difference between your hotel and other hotels in the area?
There are many lodging options in the Jackson Hole area, but The Wort Hotel is unique in many ways. First off, we are a historic hotel. We opened in 1941 as the first hotel in Jackson, Wyoming. The hotel, like many historic hotels, has a colorful history complete with gambling, a fire and two brothers who wanted to fulfill their father's dream. We also have a history wall in the hotel where you can read old newspaper clippings about the hotel and see photographs of the Wort brothers. For more information on our history, click here.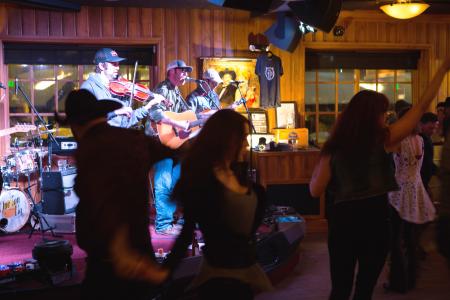 Secondly, our hotel is also located in downtown Jackson, just a half block from the town square. It's in the center of the action with many off site dining options, shopping and nightlife just steps from the hotel. We also own the famous Million Dollar Cowboy Bar and all of our guests have free entry into the bar (as opposed to paying the nightly cover charge). The Cowboy Bar boasts nightly live music (though it does close during the months of April and November). Our Hotel also boasts a bar, The Silver Dollar Bar, known for its popular Bluegrass Tuesdays. For over 10 years, the local bluegrass band One Ton Pig has been playing at the Silver Dollar Bar. Locals, visitors and cowboys congregate to country western swing dance the night away.
Third, the hotel also has a unique Western feel. It has a large collection of original Western artwork and bronzes, including in some of the guestrooms (our Western Themed Rooms and Silver Dollar Suite). When you wake up in one of our guest rooms you know that you are in Jackson Hole, not Vail, Park City or Aspen. Our hotel is authentically Western, from our true western hospitality to the western decor in our event spaces, moose head over the fireplace, cattle brands on the wall and western themed bar.
Lastly, we are a small independently owned hotel, which means that we can provide your group with a personalized experience. All of our sales staff lives locally and have a wealth of area knowledge. We are a Preferred Hotel Group member (LVX collection), but independently owned and operated. Our owner purchased our hotel because he loved the history of the hotel and wanted to preserve it. It's the only hotel that he owns and he plans on making it his family legacy. He is on site almost 3 months a year and takes great care of the property and his employees. It's a pleasure to work for someone who cares deeply about the hotel and it's staff.
Tell me about your meeting space
We have 4 meeting spaces, ranging from our large Jackson Room at 1,430 square feet to our small Clymer Room at 368 square feet. Our Jackson Room can accommodate a maximum of 90 people in a banquet configuration and 36 in a U-Shape. Our second largest event space is our Silver Dollar Showroom, our bar expansion. At 1,350 square feet complete with a replica Silver Dollar Bar, stage for live music, dance floor and large windows that open on to Broadway, this space is perfect for group receptions. Our Goldpiece Room is one of my favorite rooms due to its ornate tin ceiling and fireplace in the room. The room is 975 square feet and is perfect for banquets of 40 people or less. Lastly, our Clymer Room is located between our restaurant and bar. It's perfect for small group dinners or board meetings of 18 people or less.
What is your air service like?
Jackson Hole Airport (JAC) is located 10 minutes from the hotel. Air service is provided by Delta, United and American through 14 different cities, including direct flights from Chicago, Denver, Salt Lake City, Dallas, Los Angeles and Newark to name a few.
Can you describe the difference between Jackson, Jackson Hole and Teton Village?
Jackson is the town of Jackson, whereas Jackson Hole is the region, which encompasses the towns of Jackson, Wilson, Teton Village, Kelly and Moose. Teton Village is located 20 minutes away from our hotel and is where the famed Jackson Hole Ski Resort resides. Teton Village's peak season is the winter, which is the inverse of ours. Therefore, you can save money in the winter by staying with us in downtown Jackson.
How far in advance should I book my meeting?
We book a year or more in advance. If you have firm dates and you are looking to come during the summer peak season, I recommend booking at least 6 months out. Other times of the year we are able to accommodate a shorter booking window.
What activities are there to do in the area?
Jackson Hole is the perfect destination for an incentive trip or meeting with off-site activities. From May to October our guests enjoy a range of activity options that include wildlife safaris, whitewater and scenic rafting, golfing, horseback riding, fly-fishing and exploring Grand Teton and Yellowstone National Parks. Winter activities are skiing at Jackson Hole Mountain Resort or Grand Targhee, dogsledding or snowmobiling to a natural hot spring, snowmobiling in Yellowstone National Park to Old Faithful or taking a sleigh ride in the National Elk Refuge. Wildlife safaris are offered year-round and shopping downtown is always popular. The National Museum of Wildlife Art is also a great location for an off-site activity or dinner.
How about offsite dining options?
There are many dining options within walking distance from the hotel. Some of my favorites are The Local, Gather, Kitchen and Snake River Grill. All are located no more than two blocks from the hotel. There aren't many large restaurants in Jackson Hole, so I would recommend making reservations early.
Thank you for taking the time to learn more about our hotel. We would love the chance to host your meeting or event here. If you would like to learn more about how The Wort Hotel can host your meeting, please send us an email!