1. Wort Plaza Holiday Street Lighting Party
December 1, 2022 / 5:00-7pm / Glenwood Street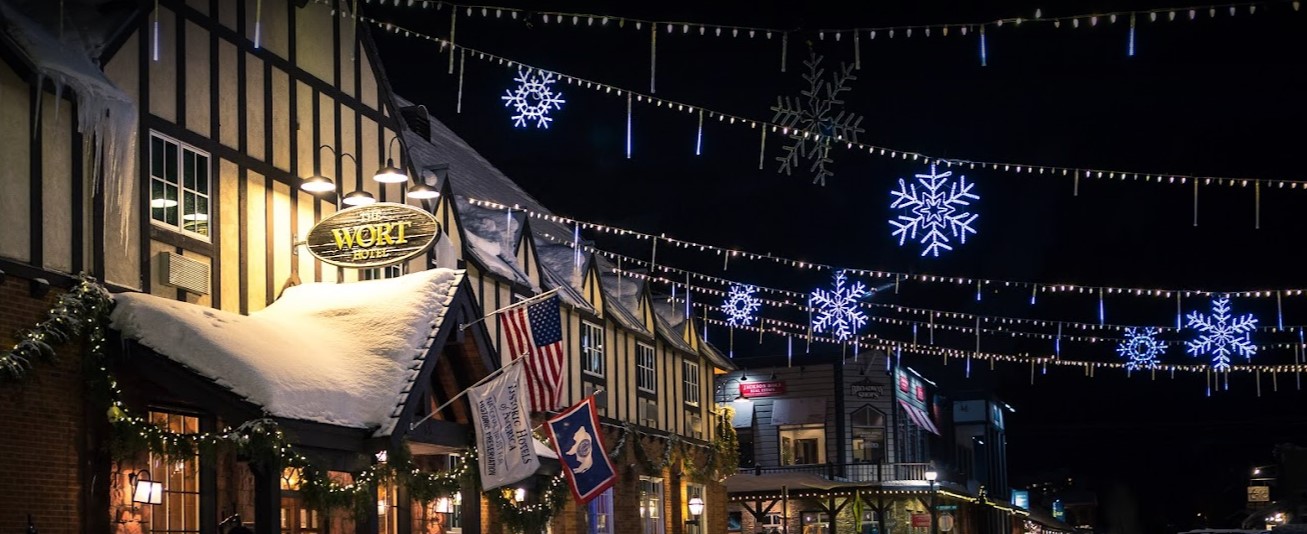 Join us in kicking off the holidays with our annual Glenwood Street Lighting Party from 5:00-7pm. We will have live music provided by the Tasha Duet, cookies and hot cocoa. Santa arrives at 6pm to help turn on the lights. After the lights turn on, Santa will hand out candy canes to kids. Please dress warm because this event is all outside.
After the street lighting party, those that are 21+ can join us inside the bar starting at 7pm for live music with Triple Nickel until 11:00pm, no cover.
2. Sip-n-Shop
December 5, 2022 / 5:00-7:30pm / The Silver Dollar Showroom / Ticketed Event

Pick up something locally made and special for the holidays. Give it as a gift or keep it for yourself we promise not to judge. And to entice you even more- each local vendor will have a special wine paired with them. Is there a better way to shop than a Sip n Shop?
8 Local Artisans
8 Different Wines
One fantastic night- $15 gets you entrance, wine tasting from each booth and pairing notes.
Wine & Retail Therapy= a new HOLIDAY TRADITION
3. Cookie Decorating
December 14, 2022 / 5-7:30pm / The Jackson Room / Ticketed Event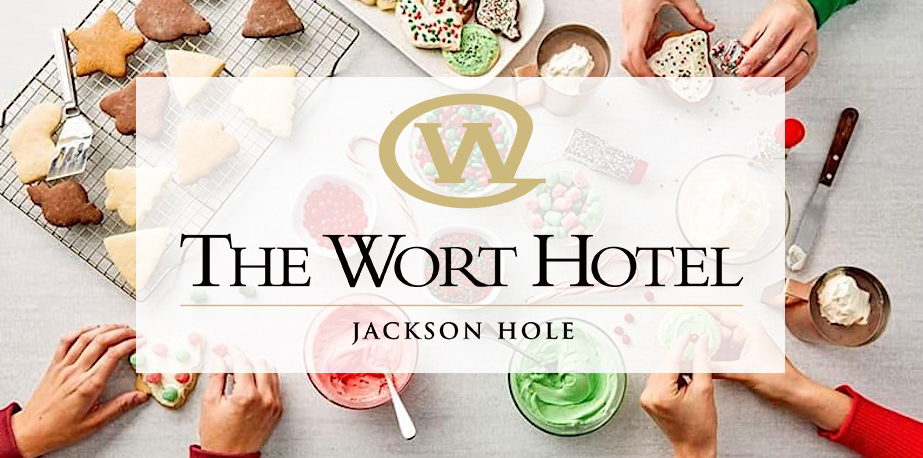 Come decorate cookies for Santa, family, friends or just eat them yourself. Ticket includes a dozen cookies with icing, sprinkles and plenty of candy to choose from. Ticket required for each dozen cookies, open seating in the Jackson Room a banquet room in the Wort Hotel. $30 a dozen $20 ½ dozen, Reservations Required.
4. Ned LeDoux
December 15, 2022 / 8pm / The Million Dollar Cowboy Bar / Ticketed Event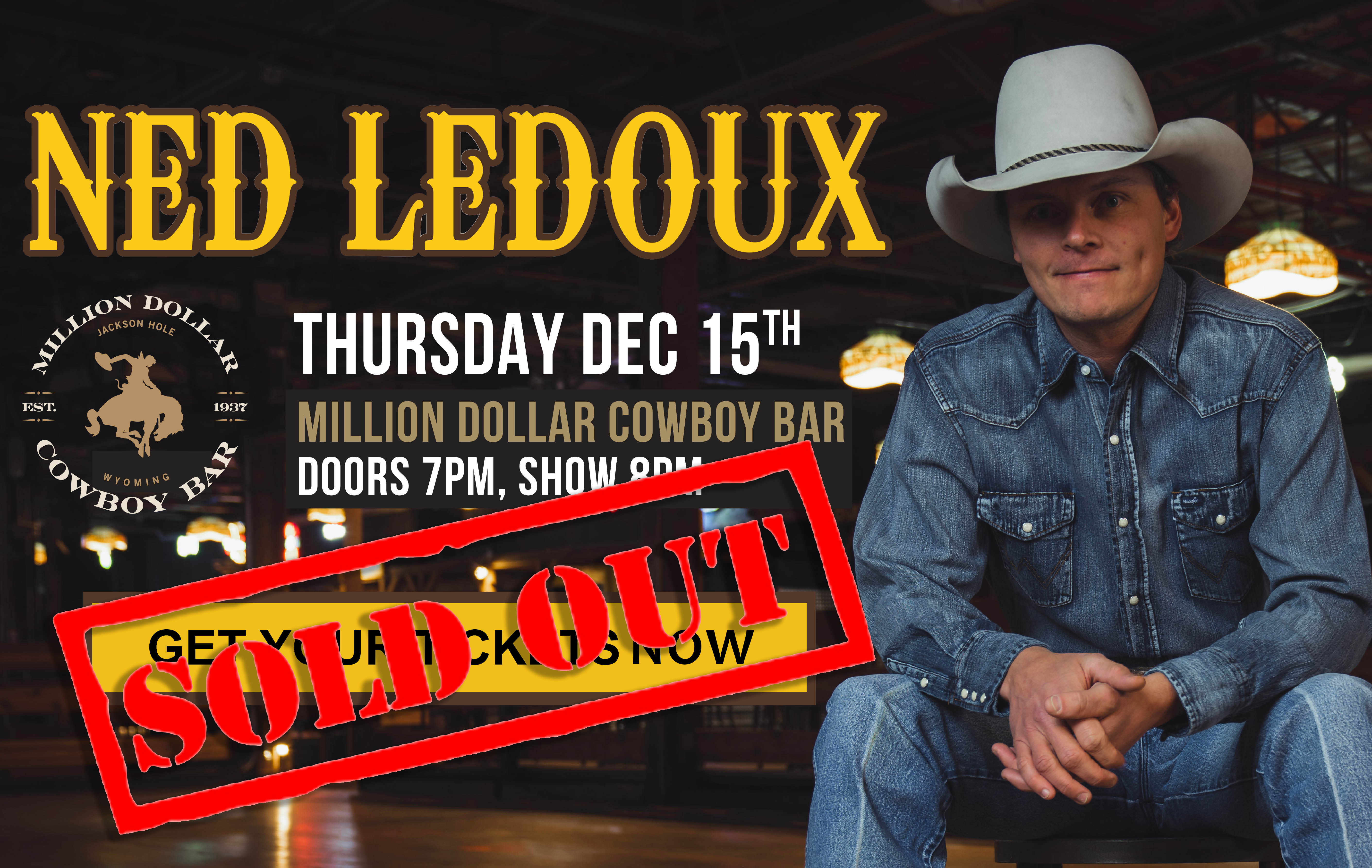 Wyoming native will make debut at Jackson's iconic honkytonk on December 15. Following in the footsteps of a famous parent can prove a challenge for any artist, but for Ned LeDoux, his authentic Wyoming roots inspire his own music, in the same tradition that fueled his father, the legendary Chris LeDoux. On Thursday, Dec 15, the Kaycee, Wyoming native and resident will bring his rocking show and western roots to the world famous Million Dollar Cowboy Bar for a country dance party.
LeDoux, who formed his first band in junior high, then toured as drummer for his father for seven years, has been steadily touring as a solo artist for almost two decades. This year, in addition to his own headline shows, he's opened for the likes of Garth Brooks, Toby Keith, Aaron Watson, Randy Houser and others, in support of Buckskin, his third and most recent full-length album.
"I'm carrying on a family tradition but I'm writing my own story," said LeDoux. "When people come out to our shows, spending their hard-earned money on a ticket, I don't want them to leave disappointed. We're going to give you a show, and leave you wanting more. I'm always out of breath and soaking wet when we're done, but it's so much fun."
5. Old Tyme Christmas by Jackson Hole Historical Society
December 18, 2022 / 6-7:00pm / The Silver Dollar Showroom / Free
Jackson Hole Historical Society & Museum Board member and musician Tom Botts will emcee the event featuring John Kuzloski on harmonica, country singer Alan Morton, vocalist Tasha Ghozali performing with bassist Rob Goodfellow Sidle, and classical guitarist Byron Tomingas.
To support - Jackson Hole Historical Society, various musical acts, stories and holiday cheer. Cookies and Hot Drinks Provided.
6. Gingerbread House Decorating
December 19, 2022 / 6-8pm / Goldpiece & Jackson Room / Ticketed Event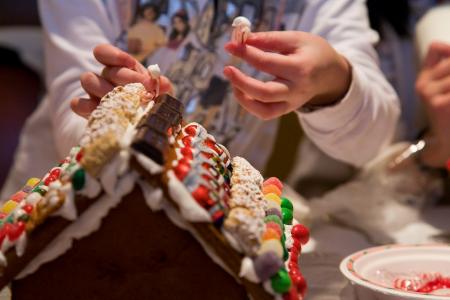 Gingerbread House Decorating with friends and family is a great way to get in the holiday spirit! Candy, frosting and gingerbread are sure to bring holiday magic. In this workshop you will have all you need to decorate and customize your gingerbread house. Ticketed event with reserved seating.
This event is on December 19th from 6-8pm in the Goldpiece Room and Jackson Room, both are meeting rooms located in The Wort Hotel's lobby.
Please limit it to 4 people per house. You can buy up to 2 houses.
7. Holiday Hoot
December 19, 2022 / 6pm / The Silver Dollar Showroom / Free Event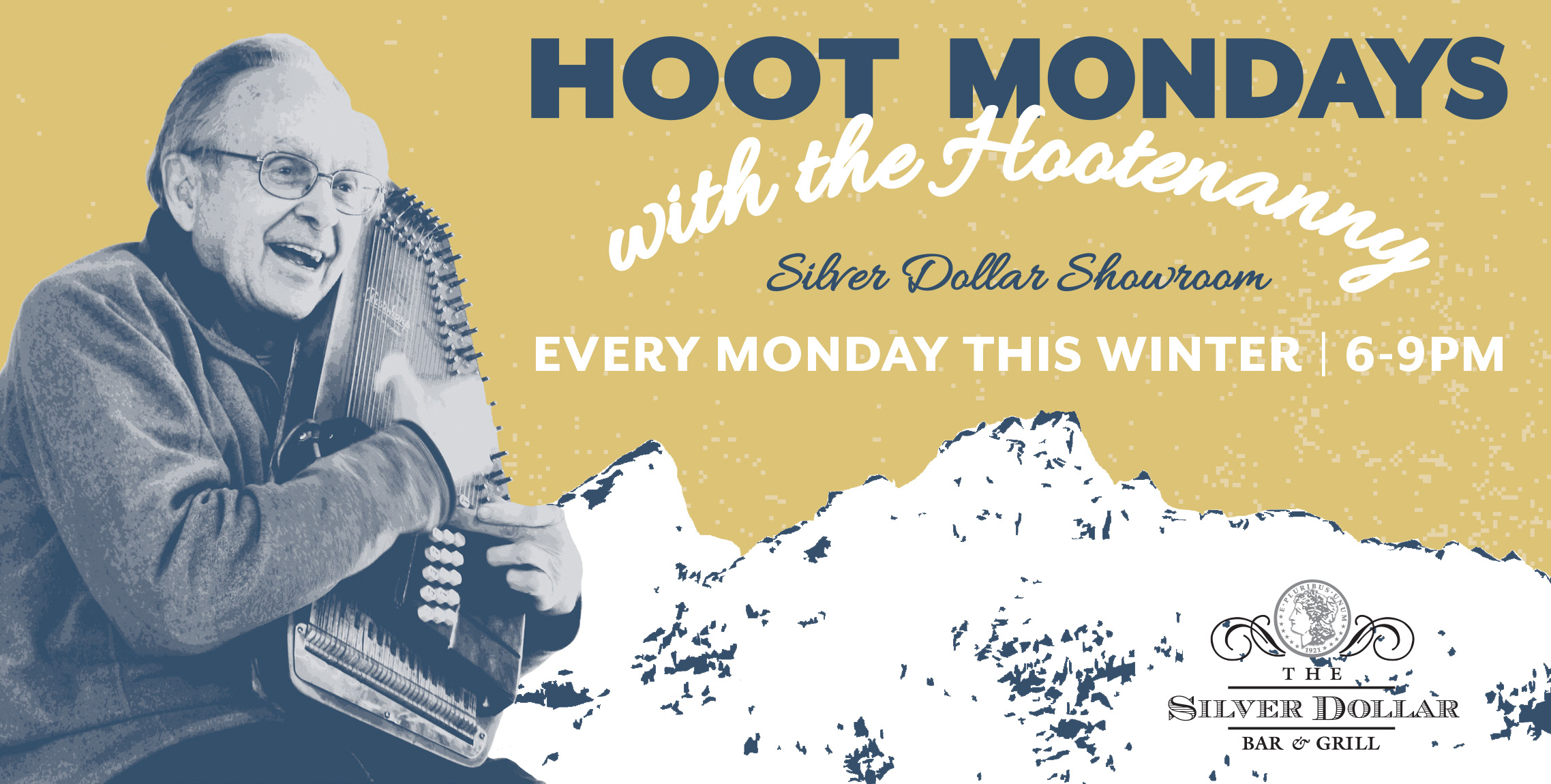 Kick off the Winter Hootenanny with a Holiday Version. Doors open at 5pm-Hoot starts at 6pm.
Dec 19th will mark the impressive 1,249th Holiday Hootenanny performance. It is a very popular open mic that fills up fast. Musicians sign up between 5 and 6pm with the show starting right at 6. Musicians play two, 3-minute songs, acoustic only, and are asked to play a traditional (old enough to vote) tune + one other.
What exactly is a "Hootenanny?" Originally, it was an Appalachian colloquialism which, in the 1960s, morphed into an informal gathering with folk music. Here in Jackson, back in the good ole' days, Bill Briggs (first person to ski the Grand Teton) brought his music to friends and folkies under the bridge in Moose, WY. This was the start of what has now become the famous Jackson Hole Hootenanny.
Over the years, "The Hoot" has hosted hundreds of local musicians, as well as, out-of-town celebrities such as John Denver, Ramblin' Jack Elliot, Peter Rowan and Chuck Pyle in an atmosphere of congeniality. Differing from other open mike venues, the emphasis is on traditional acoustic music. No amplification is allowed other than two microphones. The audience is asked to be quiet and listen. Often, musicians join together in spur-of-the-moment groups.
Many of the shows will be live-streamed on Silver Dollar TV (YouTube) for those who cannot be present.
8. Kids Karols
December 20th / 10:30am-11:30am / The Silver Dollar Showroom / Free Event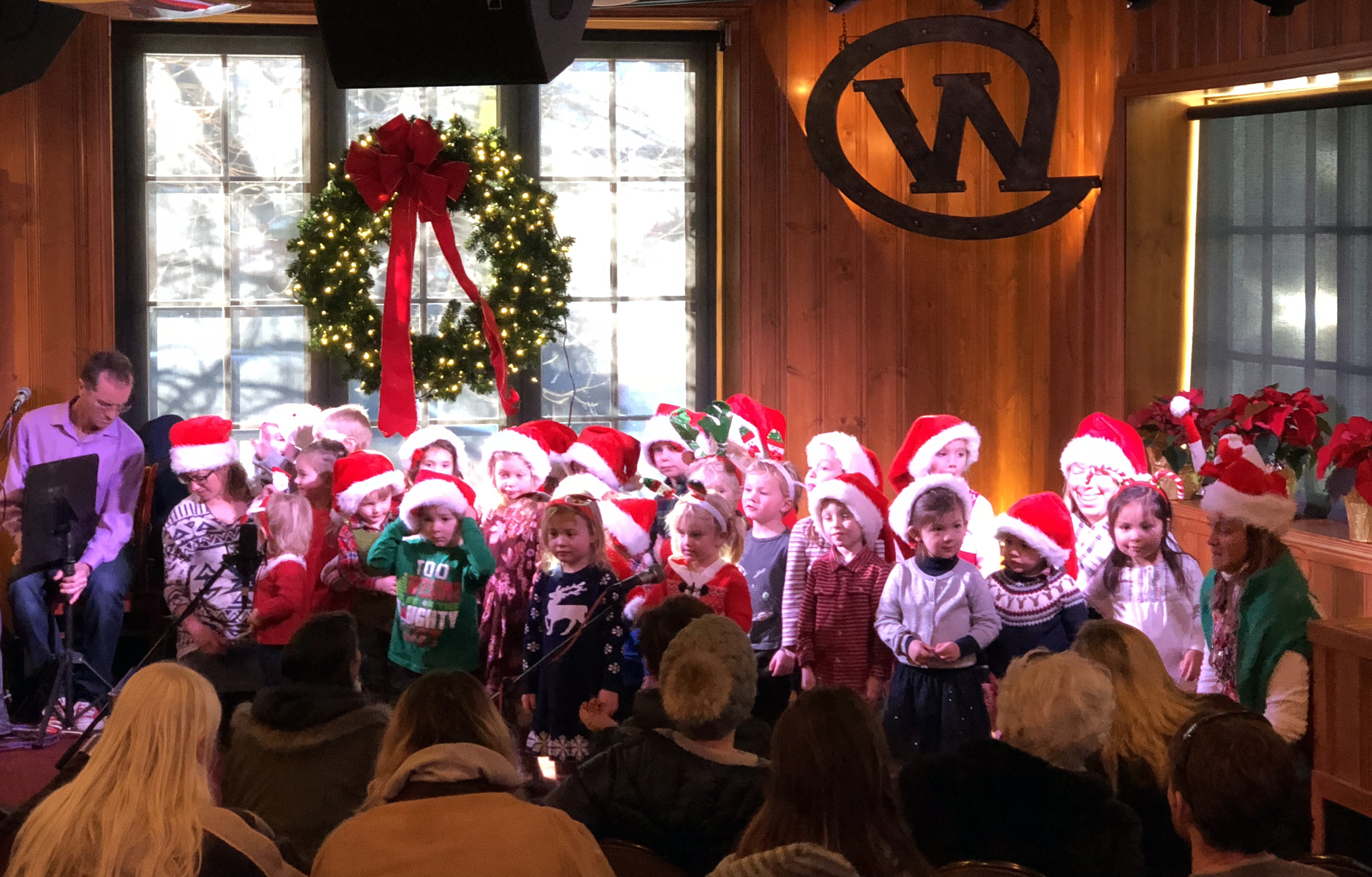 Various Local Preschools perform holiday songs on the Showroom Stage.
9. Wine Down Wednesday + Holiday Concert
December 21st / 5-8pm / The Silver Dollar Showroom / Ticketed Event for Wine Down Wednesday, Concert is Free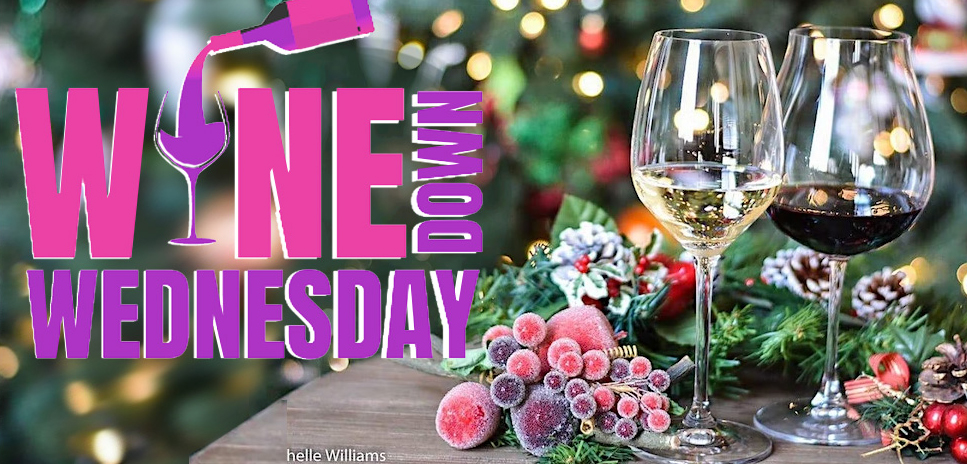 Come anytime between 5:00-6:30pm for your seated flight of 4 wines and tasting notes. Food and table service available during this entire event. At 7pm, following the wine event, Big Broadway singer Gina Feliccia will be joined by her talented daughter Sophia DeLuca for a 60 min performance of holiday tunes, Broadway numbers and soul classics. This concert is free to patrons of the Silver Dollar Bar with first come first serve seating.
Dazzle your holiday guests with some lesser known wine varietals that pair perfectly with holiday treats. You will taste 4 wines and 4 small bites of holiday inspired dishes that are sure crowd and party pleasers. Your reserved table location is perfect to settle in and indulge in a musical holiday performance of You Put the Music in Me.
The free show, You Put The Music in Me, is a mother daughter duo concert starring Gina Feliccia and her daughter, Sofia. The duo performs a full variety of music from Broadway to Marvin Gaye sprinkling in songs of the season. Both performers have impressive vocal flexibility and young Sofia brings a soulful sound beyond her years. The show features Jayden Ostler on piano he is a handsome young prodigy with notable talent on the rise. Performance is approximately 45 minutes in length.
Must be 21+ for this event.
10. Holiday Cocktails & Music with Tasha & The Goodfellows
December 22, 2022 / 7:30-11pm / The Silver Dollar Showroom
Join us for Holiday themed cocktails specials and live music with Tasha & the Goodfellows in the Showroom. No cover. Must be 21+ for this event.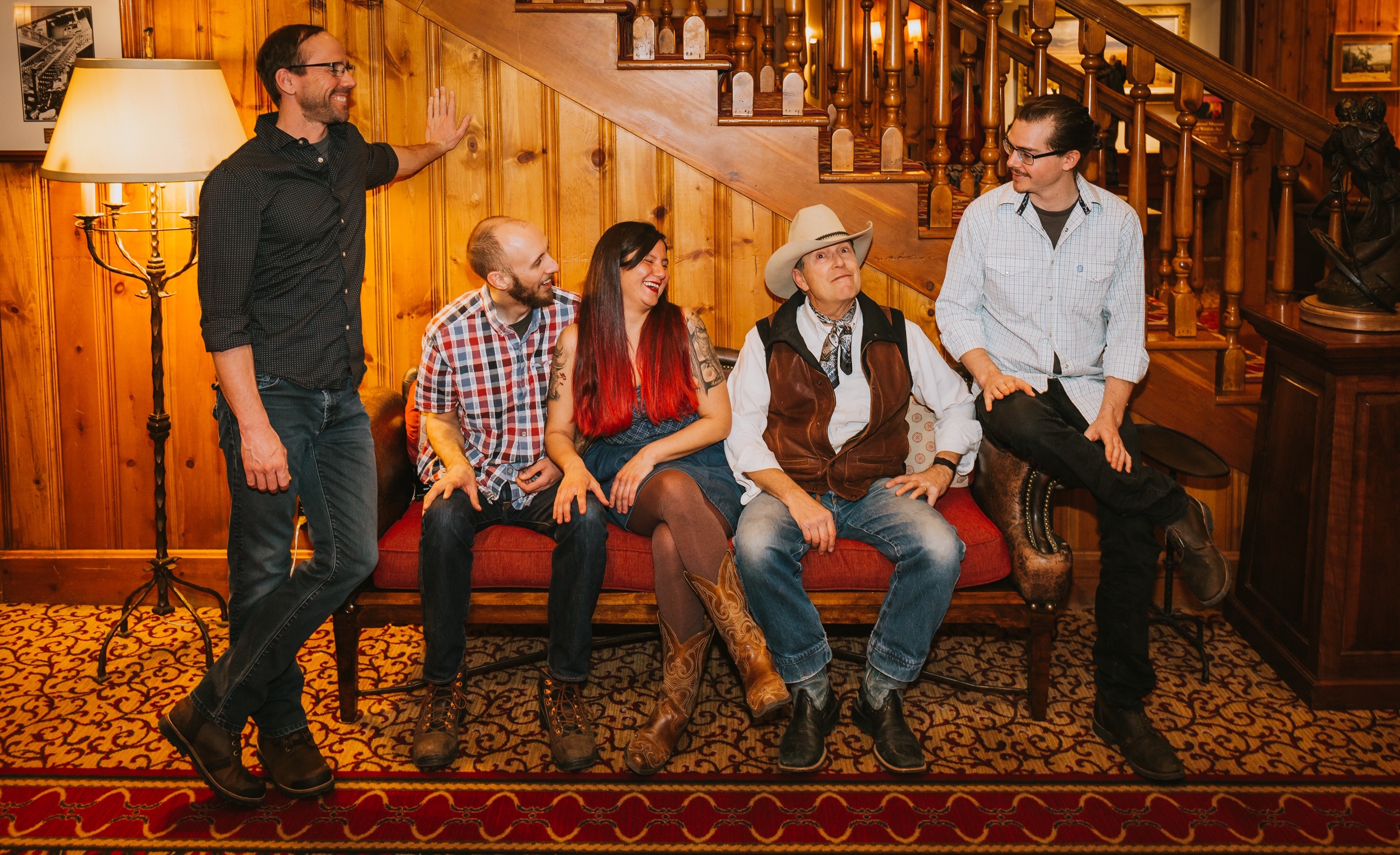 11. Naughty or Nice Christmas Party
December 24, 2022 / 8:30pm-12:30am / The Million Dollar Cowboy Bar / Door cover charge or free with local ID or Wort Guest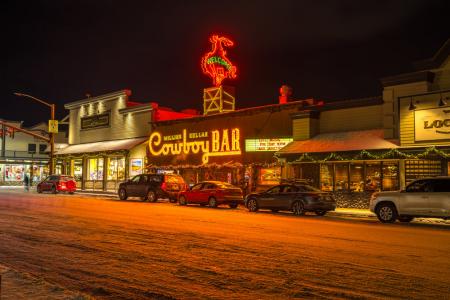 Join our sister bar, The Million Dollar Cowboy Bar for holiday fun on Christmas Eve. No advance tickets, first come, first serve.
Holiday pajamas, sweaters and costumes encouraged. Naughty or Nice drink specials. Door cover charge or free with local ID or Wort Guest-
Must be 21+ for this event.
12. Wort's Christmas Day Buffet
December 25, 2022 / 11am-4pm / The Wort Hotel / Reservations Are Required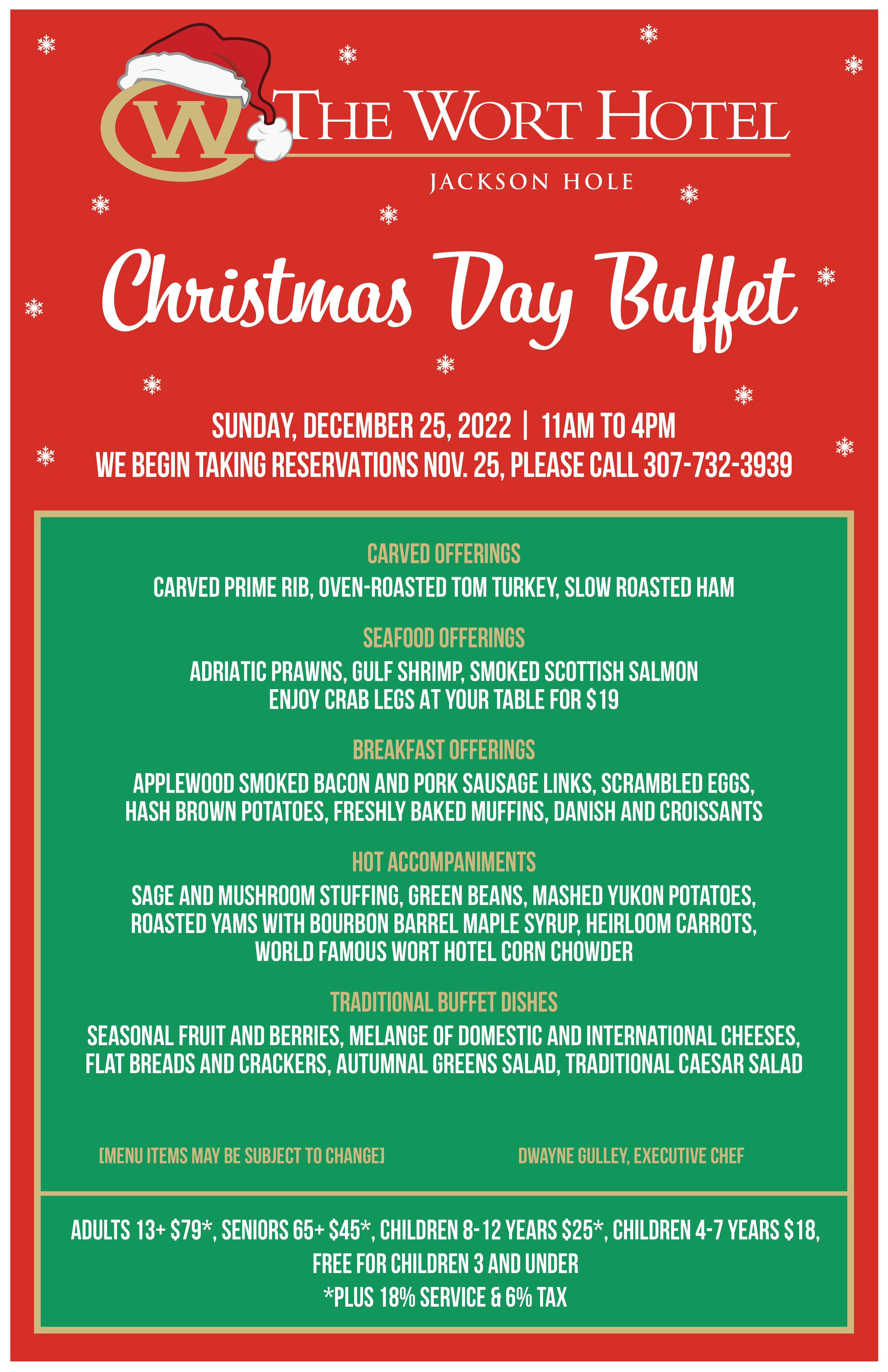 Make plans to join us on Christmas Day in the Silver Dollar Bar & Grill to enjoy our traditional Christmas Buffet with all your holiday favorites from 11am-4pm.. Reservations are required. We will begin taking reservation on November 25th at 8am MST. Please call 307-732-3939 for your reservation.
Make plans to join us on Christmas Day in the Silver Dollar Bar & Grill to enjoy our traditional Christmas Buffet with all your holiday favorites
13. New Year's Eve Celebrations
December 31, 2022 / Silver Dollar Showroom & The Million Dollar Cowboy Bar
There is no better place to ring in the New Year than in Jackson Hole. This year, both the Silver Dollar Showroom & the Million Dollar Cowboy Bar are throwing New Year's parties. The Silver Dollar Showroom will have music with Paul Cleckler from 8pm-12am, no advance tickets or cover. The Cowboy Bar will have music with The Boondock Boys from 9pm-1am, no advance tickets, first come, first serve. Must be 21+ for these events.
Stay at the Wort
Plan your winter stay at The Wort Hotel and save. We've got plenty of winter specials and packages for multi-day stays.